Union Minister of Road Transport and Highways, Nitin Gadkari has introduced Bharat New Car Assessment Programme (NCAP), its own set of crash-testing norms for vehicles, on August 22, in a bid to boost the country's road and vehicle safety standards.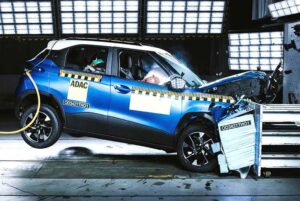 The programme, which comes into effect on October 1 this year, is an attempt to enhance road safety and curb pollution – two issues that the domestic automobile industry is grappling with.
"Every hour, we have 47 accidents and 18 deaths in India. Seventy percent of the deaths in road accidents in India are in the age group 18-34 years. Road accidents are not just because of vehicles but also because of poor road engineering," Union Minister of Road Transport and Highways Nitin Gadkari said while launching Bharat NCAP.
The programme will evaluate vehicle safety through crash tests and assign star ratings to encourage the production of safer cars and spur competition among manufacturers.
The programme, first announced on August 20, will test and rate CNG and electric vehicles, apart from petrol and diesel-driven vehicles.
"The automotive market in India has been evolving, with the consumer's focus shifting from being cost-centric to quality-centric," Gadkari said. "Over 30 car models have already been offered by carmakers in India for assessment under the Bharat NCAP safety ratings."
According to the government, apart from nurturing a safety-focused car market in India, this move towards higher safety standards is expected to enhance the global competitiveness of Indian vehicles and boost export opportunities.
"The mission for all of us is to make the Indian automobile industry the leading manufacturing hub. Although it is difficult, it is not impossible," Gadkari said.
The ministry, while outlining the broad contours of the programme, said car customers can refer to the star ratings to compare the safety standards of vehicles and accordingly make their decisions. However, it will be voluntary for carmakers to reveal the star ratings of their products.
"One thing you must remember is that people are quality conscious. Prospective buyers are very cautious about the safety (features) and about pollution," Gadkari said, adding that if there are better alternatives, people will be ready to embrace them.
The crash tests that will be carried out under Bharat NCAP are front impact, side impact and pole side impact. Vehicles will be evaluated for adult occupant protection, child occupant protection, and safety-assist technologies.
"Under this programme, car manufacturers can voluntarily offer their cars tested as per Automotive Industry Standard (AIS) 197. Based on the performance of the car in the tests, it will be awarded star ratings for Adult Occupants (AOP) and Child Occupant (COP)," the ministry said in a statement on August 20.
So far, Indian cars were tested by the Global New Car Assessment Programme (Global NCAP), a UK-based project of the Towards Zero Foundation. The Global NCAP facilitates new car assessment programmes worldwide and promotes the United Nations' motor vehicle safety standards.
Domestic companies hailed the crash-testing programme, saying it will elevate vehicle safety standards and help customers make informed purchase decisions.
Maruti Suzuki, India's largest carmaker, said it will offer at least three models for Bharat NCAP testing in the first lot itself.
"For consumers seeking extra safety information, the Bharat NCAP system is an authentic and objective rating system to empower the customer to make an informed choice," said Rahul Bharti, executive officer of corporate affairs at Maruti Suzuki India.
The Automotive Component Manufacturers Association of India said the launch of Bharat NCAP is "historic" and will lead to the integration of advanced safety features in vehicles, minimizing the risk of road accidents and fatalities.
"This initiative will not only bolster the auto component industry's value chain but will also stimulate the production of cutting-edge components, encourage innovation, and create global excellence," said Vinnie Mehta, director general of ACMA.