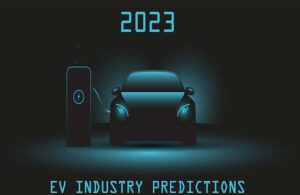 Acceleration of electric mobility has surpassed multiple records with the increasing traction of EV market in the last few years.
Smart EV charging design consultancy firm, Versinetic's engineers have over ten years' experience designing electric vehicle charging points and are behind the versatile Charging Blox system.
One of Versinetic's goals is to improve the time-to-market for customers, and they will be showcasing how their products can save manufacturers years of development time at The London EV Show, ExCeL London, 29 November – 1 December 2022.
After a tumultuous 2022, Versinetic's experts look ahead to what the EV industry holds in 2023 and beyond.
UK EV sales will increase 40% in 2023
Despite the new market constraints heralded by 2022 and the Russia/Ukraine conflict, sales will continue to be positively affected by supply chain stabilization. After Q1 of 2023 increased energy security, with a focus on renewables, is expected as well as the chance of an oil glut crisis and a hoped-for lower inflation rate.
Fleet sales of EVs will also grow rapidly towards 2030 both to meet increased online delivery and transport needs and because of the increased capabilities of a new generation of EV vans and HGVs from the likes of Vauxhall, Mercedes, DAF, Ford, and Tesla.
As EV sales grow, the charging industry will be under more pressure to develop UK Smart Charge Point Regulation-compliant chargers right of the box. For example, robust security implemented on Versinetic's products ensures your charger complies. Primary elements of the Versinetic EV charger security package are Secure Boot and TPM – Trust Platform Module, which has the highest level of protection for security.
No short-term price reduction for EVs
A noticeable price reduction for electric vehicles is not expected. However, there will be price pressure on manufacturers from the commercial appearance of more micro-EVs such as the Citroen Ami, the Microlino, the Wuling Hongguang Mini EV, the Carver EV, and the US-based CitiQ.
Hydrogen fuel cell (or combustion) has no future in almost all vehicles
In cars, combustion engines are already being out-competed by a factor of 200 to 1,000. There are still instances of combustion vehicle use in the UK public sector including Birmingham's buses. Nonetheless, BEV busses will outcompete them too. Truck-maker DAF is following the BEV route, smaller vans are going BEV, and the Tesla Semi is going to be a BEV.
For other vehicles a similar issue applies. Narrowboats, speedboats, and yachts will go electric. Narrowboats already have a supply.
Over the next year, thinking will move towards hydrogen and other technologies for trucks. That said, hydrogen power is still reliant on grants and handouts and the space is without many advocates or truly inspirational products.
An internal combustion engine will never again be at the top of a most popular car list
An electric car, the Tesla Model Y, became the most popular car in Europe in September 2022 and will become the number one vehicle in the world next year.
The Tesla is the first EV to ever achieve this feat and it marks a huge shift in the automotive and transportation sectors. We predict that we will never again see an internal combustion engine become most popular car in Europe again, especially with developments like the first battery-electric truck, Tesla's semi, set to be released on 1 December 2022.
The used EV market will mirror the new EV sales market from 8 years ago
There is a demand for used EVs but little supply. Of 13,000 EVs on Autotrader, at the time of writing, these vehicles are holding their value.
As an example of EVs holding their value, one Versinetic engineer purchased a Renault Zoe, used, for £7,500 in 2017, it now has 51,000km on the clock. Autotrader has listings for older 2015 Renault Zoe vehicles, with more kilometers, for the same price paid by our engineer in 2017.
Energy storage potential will drive EV sales
The energy storage potential of EVs will drive sales incentives. Manufacturers will be working on ways to connect more devices to the home. For example, an EV will interact with an energy management system in a home. Heat pumps, washing machines, car chargers, solar panels, batteries, and more will combine to create an IoT ecosystem. The idea is that, during the day, excess energy doesn't get exported to the grid, instead being stored in a battery. If there is no battery, it goes into your car.
Crucial to this is load balancing. Together, Versinetic MantaRay Smart Charge Point Communications Controller and EEL AC EV Charge Point Controller support EV load balancing in single-phase and three-phase configurations.
Lithium mining will grow to meet EV demand
There will be more lithium mining in the coming years. This is currently primarily a process of evaporation from salt flats or sea water. Expectations are that mining will get much cleaner. The use of other alternative chemicals too will grow, including iron phosphate, sodium, vanadium and zinc, for diverse battery requirements.
The EV revolution will gain pace as we get closer to 2030
There are going to be substantial changes in energy distribution and storage. Whole new markets for charging, maintenance, etc will emerge. Once corporate giants like BP/Shell/Esso/Texaco dominated the petrol-vehicle market. Now for the EV industry many smaller charging companies are appearing offering home charging, office charging, fast DC and slower AC charging. We expect to see a very different automotive industry a decade from now.