Striving to upskill the next generation, Techno India University has recently launched two courses in Defence and EV Technology to drive businesses through innovation and research.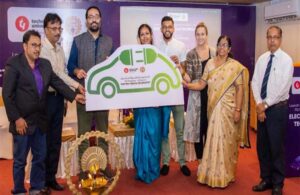 Madhumita Chakraborty, director, CMSDS, Defence Research and Development Organisation (DRDO) Kolkata, called the courses a leap towards the future. "This is a full-time course of two years (postgraduation programme). Internships and R&D opportunities would be provided at various DRDO facilities across the country through exclusive partnerships. During the internship, specialists and scientists would be mentoring the interns," she said.
The EV Technology programme is aimed at preparing students to work with and contribute to the huge demand in the nation and globally.
EV (Electric Vehicles) are poised to take over the world, owing to the distinct benefits that they have over traditional combustion engines of vehicles in terms of efficiency.
"Electric vehicles are the future. WBTC is planning to go electric in the next few years," Rajanvir Singh Kapur, Managing Director, West Bengal Transport Corporation, said.
Internships and placement opportunities under EV Technology Programme as well as under Defence are available at various public and private organizations through industry academia partnerships.
In addition, incubation, mentoring and funding assistance would be provided to start-up enthusiasts.