Expecting a heavy rush on the sales of electric vehicles in the state during festive season, the Jharkhand government has provided a variety of incentives to scale up the EV ecosystem in the state, under the EV Policy 2022.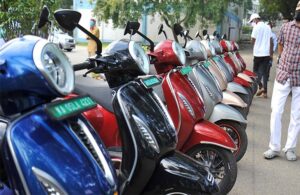 According to the notification, if someone buys a new electric car in the state, he will get a rebate of up to Rs 1.5 lakh. A discount of Rs 10,000 will be given on the purchase of an electric scooter or bike, Rs 30,000 on electric auto, and up to Rs 20 lakh on the purchase of an e-bus.
The incentives are for early birds.
The EV car buyers will get the grant till 10,000 cars are purchased, similarly, the incentives for electric scooty or bikes will be till the purchase of one lakh such vehicles across the state and the incentives will apply for e-autos till the purchase of 15,000 such vehicles.
The incentives will apply till the purchase of 1000 e-buses.
Apart from this, a provision has also been made to give exemption in road tax. The first 10,000 buyers of e-vehicles manufactured within the state will get 100 per cent, 10,000 to 15,000 buyers 75 per cent, and after that, the buyers will get a 25 per cent discount.
"The urban local bodies shall be encouraged to provide parking preferences to EVs, subject to local traffic conditions. Developers of new residential projects would be encouraged to provide the option of EV-ready parking. All the future public parking spaces allotted by the bidding process shall provide free parking to the EVs," the notification said.
To ensure that there is no problem with charging electric vehicles, there is a plan to set up at least one charging station in a 3km x3km grid or a minimum of 50 charging stations per 10-lakh population, whichever is higher.
Charging stations will also be installed every 25 km on National Highways.  While the state government will give subsidies ranging from Rs 2 crore to Rs 30 crore for setting up electric vehicle manufacturing units in Jharkhand, a provision of 50-60 per cent subsidy has also been made for starting EV charging stations in the state.
Apart from this, the government has made a provision that if any employee of the state government buys an EV two-wheeler or four-wheeler, then they will be given a 100 per cent interest subsidy. Also, emphasis has been laid on the use of EVs for office use in government offices as well.
On September 14, the Jharkhand cabinet led by chief minister Hemant Soren gave its approval to the EV policy. It targets 10 per cent of new vehicle registrations by 2026 to be e-vehicles and plans to convert 15 per cent of state transport vehicles to electric.
Production of advanced chemistry cell batteries and the establishment of a centre of excellence for EVs are planned by 2027.