Piqued by the growing charm of Electric Vehicles (EVs), the majority of automobile manufacturers have switched their attention to this emerging field that has shaken the foundation of new-age vehicle technology in a single stride.
Launched in the early years of the 2000s, EVs were not a preferred alternative for people at that time due to their incomplete technology advancements as well as other shortcomings.
Amid the rising concerns of climate change and under the Global leader's careful investigations on how to usher in environment-friendly vehicles and measures to combat climate deterioration, the adoption of EVs on a mass scale presented a unique solution.
However, with the ongoing buzz, there comes a lot of confusion.
Especially with the type of vehicle present, and what are the Key Differences between BEV, HEV and PHEV?
How do these vehicle types influence their architectural decisions?
Here, we will be talking about some of the Key Differences between BEV, HEV and PHEV.
Key Differences in BEV, HEV and PHEV
With the global electric vehicle market expected to grow at an alarming pace in the next coming years, the Key Differences in BEV HEV and PHEV are what set them apart.
Electric Vehicle or Battery Powered Electric Vehicle (BEV)
Realizing the potential of EVs in the market, instead of conventional fuel-guzzling vehicles, the Key Differences in BEV HEV and PHEV is that Battery-powered Electric vehicles (BEV) run solely on battery power.
With the absence of Internal Combustion Engines (ICEs), EVs run on battery systems and electric powertrains. Drivers can easily charge these BEVs at home using Level 1 or Level 2 EV chargers or can also use more powerful chargers like Level 3 that are specifically designed for commercial charging stations.
This is what sets them apart while bringing up the Key Differences in BEV, HEV and PHEV.
Hybrid Electric Vehicles (HEVs)
Highlighting the Key Differences between BEV HEV and PHEV, HEVs generally run on both an internal combustion engine and an electric motor that utilizes energy stored in a battery.
Unlike BEVs, HEV drivers usually charge their batteries through regenerative braking.
Regenerative braking, in turn, stores the kinetic energy used to stop the car to charge its battery and eventually helps the ICE to accelerate the vehicle. HEV drivers desire HEVs and PHEVs as more beneficial for their fuel economy since complete reliance on battery power has its shortcomings too.
Further differentiating HEVs, they are two types, namely, Parallel hybrids that predominantly use the ICE parts with some electric assistance while driving just like Honda e:HEV, while its other type named Series hybrids leverages only the electric motor to drive the vehicle's wheels with the engine only generating charge for it like that of Nissan e-Power.
Therefore, emphasizing Key Differences in BEV, HEV and PHEV.
Plug-in Hybrid Electric Vehicle (PHEV)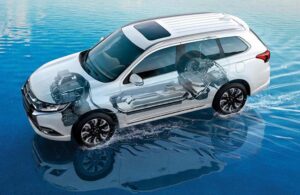 Setting apart the Key Differences in BEV HEV and PHEV, some of the notable similarities that PHEV shows is that of having an electric motor that can be recharged via an external plug like BEVs.
Likewise for HEVs, PHEV also possesses a fuel-based ICE. However, the big Key Differences in BEV HEV and PHEV is that PHEV can travel long distances on electric power alone which is about 20 to 30 miles due to their increased battery size and ability to recharge from the grid.
Just like HEVs, PHEVs are also of two types that include, Extended range electric vehicles (EREVs), or series plug-in hybrids, which use an electric motor to push the car while the internal combustion engine generates electricity.
And the other is parallel or blended PHEVs that utilize their internal combustion engines and electric motors to move the car.
Hence, stressing out Key Differences in BEV HEV and PHEV.
Best Hybrid Vehicles or HEVs in India
Honda City e:HEV
Renowned automotive brand, Honda City has introduced the Honda City eHEV which has a self-charging strong hybrid system and generates a combined power of 126 PS with a fuel efficiency of 26.5 kmpl.
The City eHEV leverages an Electric Drive Traction Motor and a 1.5L i-VTEC petrol engine that helps in generating a combined power of 109 PS and 253 Nm of torque.
Toyota Urban Cruiser Hyryder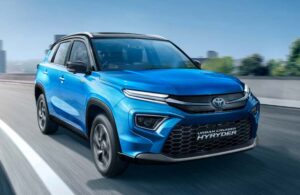 Japanese Automotive Leader, Toyota has launched Urban Cruiser Hyryder as its unique HEV which is equipped with two hybrid systems, a mild hybrid system and a strong hybrid system.
The mild hybrid system generally helps with start-stop functions on the 1.5L engine and is paired either with a 5-speed manual and a 6-speed automatic transmission.
MG Hector
British brand of Luxury cars, MG Motors has released MG Hector which is also one of the more accessible hybrid cars. Its mild-hybrid powertrain consists of a 1.5L turbo petrol engine, an electric motor, and a 48V battery.
Lexus ES
Known as Toyota's luxury division, Lexus has grown rapidly in the hybrid arena, thus offering a wide range of cars with hybrid technology. One of its best-selling cars in India is Lexus ES which comes in two variants: ES 300h Luxury and ES 300h Exquisite.