British EDF Renewable Energy Player, Pivot Power has launched Europe's most powerful EV charging hub in Oxford, with 42 fast and ultra-rapid chargers.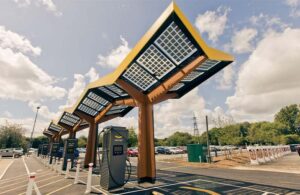 As part of the Energy Superhub Oxford project, the hub located at Redbridge Park and Ride could scale up to provide charging for 400 vehicles as EV adoption increases.
Matt Allen, CEO and co-founder of Pivot Power, said: "Urban decarbonization is ground zero for the immediate emissions reductions needed to tackle the climate crisis. Energy Superhub Oxford provides a vision of the future, today. By delivering a world-leading project that cuts emissions across transport, power and heat, we are breaking new ground to help the UK reach net zero sooner."
The EV charging hub will be entirely powered with renewable energy, with 10MW of installed capacity on-site.
"Electric vehicles form a key part of our strategy to decarbonize transport, so I'm pleased to see Europe's most powerful EV charging hub opening in Oxford," said Trudy Harrison MP, transport decarbonization minister.
"Both the Government and industry, working together, are investing billions in projects like this to help provide the infrastructure to support the UK's electric revolution and soaring EV sales. This in turn will help us decarbonize transport, create high-skilled jobs, and provide cleaner air across the UK."
Several providers installed chargers at the facility, which has been developed by EDF Renewables subsidiary Pivot Power with the participation of the Oxford City Council, including 10 300kW charging bays from Fastned, 20 7-22kW from Wenea and 12 250kW Tesla Superchargers.
The Oxford EV charging hub will be directly connected to the National Grid's transmission network – unlike other UK charging hubs which are generally connected to the distribution network – by a four-mile underground cable that could simultaneously charge hundreds of EVs without straining the local electricity network or needing costly upgrades.
The project forms part of the £41 million Energy Superhub Oxford, which is set to support the city's goal to decarbonization by 2040 by electrifying its transport, smart energy management, the installation of over 60 heat pumps and hybrid battery storage which was also developed by Pivot Power and was activated along the charging hub.
After Oxford, the next two cities to see Energy Superhubs deployed will be Coventry and Sandwell, located in the West Midlands.
Pivot Power plans to deploy up to 40 Energy Superhubs across the UK, once the projects are completed, they could provide up to 10% of the energy storage the UK will require by 2035.