Delta Electronics has rolled out SLIM 100, a new EV charger with a robust and compact design.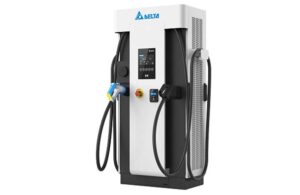 It offers a maximum power of 100 kW and includes rectifiers with 97% power efficiency.
Commenting on its introduction, Vincent Lin, Senior Director of e-Mobility & Smart Energy Solutions business development, Delta EMEA, stated: "The popularity of EVs is on the increase as drivers recognize their performance, sustainability and environmental benefits. Nevertheless, the space available for placing new EV chargers is limited, especially in urban areas. The SLIM 100 is a response to the growing need for a powerful, yet compact charger that can meet the needs of a wide range of user applications where space is restricted."
The SLIM 100 charger provides simultaneous charging of up to three vehicles and offers DC and AC charging.
With its ability to provide 100kW of power in one cabinet, it offers an ideal solution for space-critical applications, as its footprint is 55% smaller than other products that offer the same level of power. This makes its well-suited to commercial applications, parking lots, service stations and urban traffic hubs where installation space can be limited.
The SLIM 100 provides simultaneous charging for up to three vehicles.
Two charge points are available for DC quick charging of up to 100 kW, and one charge point is available for AC charging of up to 22 kW.
Dynamic load distribution minimizes the charge time for EV users. Of particular interest to operators against the backdrop of dramatically rising energy prices across EMEA, is the Slim 100's high efficiency of 97%. This will help operators to make significant energy cost savings.
The SLIM 100 delivers an attractive, fast-charging service with minimum space requirements.
It's simultaneous charging of up to three vehicles and its dynamic load distribution minimizes the charging time for EV owners.
It is intuitive and simple to use in locations with limited space, and it will play a key role in bringing fast charging to the growing number of EV drivers across EMEA.