The National Association of Software and Service Companies (NASSCOM) has highlighted issues regarding the draft Delhi Motor Vehicle Aggregator and Delivery Service Provider Scheme introduced by the Delhi government in May 2023.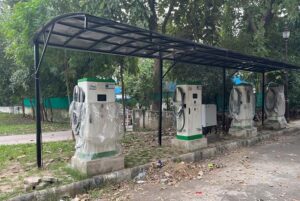 NASSCOM highlights issues such as unrealistic electrification targets, limited charging infrastructure, high entry costs, and challenges faced by cab drivers.
The organization suggests revising the onboarding targets for electric vehicles (EVs) to align with the existing EV ecosystem in the National Capital Territory (NCT) and implementing electrification in a phased manner.
NASSCOM also proposes the creation of a working group comprising aggregators and delivery service providers to collaborate with the Delhi government on electrification efforts and recommends incentivizing these partners.
The note by NASSCOM points out that the current share of EVs in Delhi is significantly lower than the electrification targets set, citing the limited range of commercially available EVs for ridesharing and inadequate charging infrastructure.
Additionally, the higher cost of acquiring EVs compared to internal combustion engine (ICE) vehicles poses financial challenges.
NASSCOM raises concerns about the immediate transition of bike taxis to electric two-wheelers, highlighting the low percentage of electric two-wheelers in the current fleet and the preference for motorcycles in the bike taxi industry.
The note also raises issues regarding differing electrification targets for aggregators transporting goods or passengers, as drivers often use the same vehicle for both purposes.
Financial hurdles, such as high vehicle license fees, are mentioned as potential deterrents to fleet operators and drivers.
The note concludes by emphasizing the need for a realistic approach, collaboration with stakeholders, and flexibility in the policy to address the practical challenges and encourage EV adoption in the gig economy in Delhi.
The Delhi government had announced a draft 'Motor Vehicle Aggregator Scheme 2023' aimed at regulating cab aggregators and delivery service providers in the city.
The scheme will make it mandatory for aggregators to install a panic button in all vehicles and integrate it with the '112' Delhi Police emergency helpline.
It will also force aggregators and delivery service providers to gradually switch from conventional to electric vehicles so that by April 1, 2030, they stop using vehicles running on conventional fuel sources.