BOLT has introduced India's first safest, smartest and most affordable Universal EV charging socket 'BOLT LITE', which is compatible with all portable chargers with any EV and works with the existing AC power supply at home.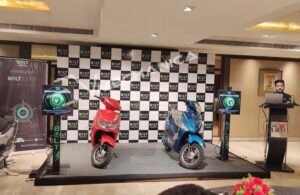 The BOLT LITE is IoT-enabled and helps connect EVs across the country.
BOLT LITE comes with an energy calculator to monitor power consumption and gives the user access to a lifetime of passive income.
Owners can choose to switch the device status between 'public' and 'private', where 'public' charging sockets are open to the public and available for booking on the BOLT app. 'Private' is exclusively for the device owners. BOLT LITE can be operated with or without the BOLT app and supports both Bluetooth Low Energy and WiFi communication. When set to private mode, BOLT LITE does not require internet or the BOLT app to be operated.
"With BOLT LITE, we are addressing the various challenges faced by a user while charging EV at home and have designed an affordable solution which enables safe and smart charging at home," elaborates Mohit Yadav, Co-founder, BOLT.
Available at only Rs. 2599 and shipping starts today. Consumers can place an order for BOLT LITE through their official website.