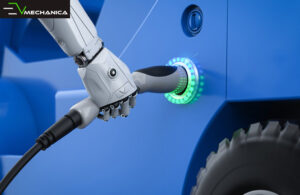 As the pressure of replacing some of the most common declining fuel sources arose, the introduction of electric vehicles has come as a huge respite in troubled times.
Known as the future of mobility, Electric Vehicles (EVs) have singlehandedly combed out the entire automobile market with their power-packed benefits as the sales of EVs tread upwards.
Expected to attain price parity with traditional combustion engine vehicles within the next five years, the sudden ascent of EV sales is a major credit to the huge Role of AI in Electric Vehicles.
Artificial Intelligence is one of the most promising next-generation technologies that have the capability to assimilate its way into nearly every market present.
In the field of Electric Vehicles, AI is expected to push the boundaries of technological advancements in battery technology.
Disrupting the flow of the EV ecosystem with its arrival, AI has taken a centre stage across numerous arenas in the automobile industry.
Considering the sales outlook witnessed in the EV industry of India, we cannot deny the Role of AI in Electric Vehicles in uplifting the quality of services offered in the next-gen products.
This leads us to our next probable question of the day, Is AI Driving EV Adoption in India?
If the answer is yes, then how?
To get a detailed analysis of the current EV market and how is it leveraging AI to increase sales, we must check out some of the basic facts that define the Role of AI in Electric Vehicles.
Role of AI in Electric Vehicles
Splitting the Role of AI in Electric Vehicles in terms of its applications in real-time, the list includes,
Battery Optimization
Considered the primary part of every electrically charged vehicle, electric batteries and their development require vigorous testing of various material combinations which is a very time-consuming process.
On the other hand, if EV battery manufacturers integrate AI solutions this process can become a lot easier and fast to handle.
For example, according to a recent IBM project, for developing a battery capable of faster charging without nickel or cobalt, researchers had to evaluate a set of 20,000 compounds to determine the battery's electrolytes. Typically, this would have taken five years to process this data, however, with AI, it only took nine days.
Vehicle Health Diagnostics
Another Role of AI in Electric Vehicles lies in the development of advanced health monitoring platforms to deliver highly efficacious remote diagnostics.
Digital Twins of drivetrain components can be used to generate predictive insights for applications like overheating, battery charging, and fuel-air charge composition.
Comprehensive reports on fuel efficiency-pilferage, driving performance, routes-schedules, and even performance of emissions control systems can be made available with minimal manual intervention signifying the Role of AI in Electric Vehicles.
Autonomous Delivery
Already operational in some cities of the United States, an EV company, Refraction AI focuses on developing self-driving delivery vehicles to offer faster and cheaper delivery of goods from restaurants, grocery stores, etc.
Equipped with powerful artificial intelligence technology, their flagship vehicle, REV-1, has already made flawless deliveries and is equipped with cameras that allow it to stop whenever necessary.
Leveraging its AI system, the vehicle can choose the best path for delivery, be it a car or a bike lane.
Enhancing HMIs for Safety
Coming up as one of the most essential features of an EV is the human-machine interface (HMI) that is required to control and provide signals to various types of automated equipment, including the LED screens found in many EVs.
HMI systems integrating AI solutions will allow its drivers to access a voice-enabled smart assistant, additional controls, enhanced EV monitoring, and infotainment services.
AI-powered HMI systems are one of the major drivers of mass adoption that signifies the Role of AI in Electric Vehicles.
Is AI Driving EV Adoption in India?
Citing some of the major cases of AI integration in Electric Vehicles, PURE EV, an IIT Hyderabad-incubated startup, has developed artificial intelligence-driven hardware to repair lithium-ion batteries of electric vehicles automatically.
According to the sources, researchers have developed an Artificial Neural Network (ANN)-based algorithm called 'BaTRics Faraday' that can easily identify defects in batteries.
Ather Energy has also leveraged AI in the basic algorithmic structure of its battery management system, therefore signifying the Role of AI In Electric Vehicles.
India's first electric motorcycle startup, Tork Motors has powered its electric motorcycle with TIROS which stands for Tork Intuitive Response System.
Cementing the Role of AI in Electric Vehicles, TIROS works as an operating system that can facilitate motorcycle performance parameters, riding pattern data, and GPS data and can explain terrain irregularities that would facilitate machine learning.
Another EV solutions provider, FLO Mobility is automating e-scooters by controlling them without any on-field human intervention, which solves electric vehicle fleet problems like optimizing charge cycles, last-mile movement to match demand-supply, vehicle cluttering and paves the way to build smooth micro-mobility operations.