Ride hailing firm, BluSmart has introduced MyBluKms3.0 challenge on its app, to tackle vehicular air pollution in the cities.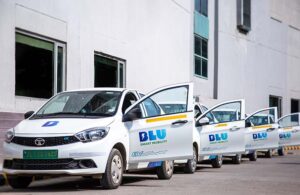 The campaign aims to encourage and reward the citizens to use cleaner and environment-friendly mobility options. BluSmart customers can access their CO2 savings on each ride from their mobile app.
This Carbon emission reduction is Verra verified. To further sweeten the deal, the participant with the highest CO2 savings from rides will be rewarded with an iPhone 14, and the top 10 contestants will get premium hampers cumulatively worth ₹1 lakh.
MyBluKms3.0 challenge encapsulates the company's commitment to curbing the CO2 emission levels in megacities.
The brand is elevating the customer experience with zero cancellation, zero surge and zero-tailpipe emission. It is taking customers beyond mobility with solutions that synergise with their commitment towards the environment.
Anirudh Arun, Chief Operating Officer at BluSmart said, "Come the month of November and pollution reaches an all-time high. With the #MyBluKms Challenge, we aim to raise awareness about the benefits of electric mobility, and encourage relevant conversations around it. We want to help people contribute towards a cleaner tomorrow."
Last year the MyBluKms2.0 campaign had successfully saved 26,000 kg of CO2. A total of 6,000+ changemakers participated in the 2021 challenge. Blusmart had rewarded the winner of the challenge with an iPhone 13 and gift hampers worth INR 1 lakh to the top 15 participants. The winner of #MyBluKms2.0 challenge saved more than 190 Kgs of CO2.
In 2020, BluSmart initiated this cleaner challenge MyBluKms1.0 and witnessed 200+ change-making contributors saving 1,500+ KGs of CO2. The winner of the MyBluKms1.0 won a trip to the Andaman Islands.
Vehicular pollution has been one of the biggest contributors of air pollution in India. With 18% of energy consumption done by the transport sector, it translates to approximately 94 million tonnes of oil equivalent (MTOE) energy.
BluSmart, a first-of-its-kind, 100% electric mobility platform, is here to make a difference. This sustainable service has so far reduced 8100+ tonnes of CO2 since its inception.
With expansion plans in place, BluSmart is transforming the mobility landscape with its reliable, efficient, sustainable, all-electric fleet in Delhi NCR and Bengaluru currently.