Unprecedented sales of electric vehicles made a huge dive towards the bottom in the ever-increasing markets of India when several accidents of EVs caught on fire were reported in April 2022.
These incidents left a shadow in the hearts of Indians as the purchasing trend of Electric Vehicles (EVs) took a sharp fall and people appealed for swift action against the manufacturers.
Considering the EV fire accidents, India's Ministry of Road Transport and Highways (MoRTH) issued a strict warning to these manufacturing start-ups to get penalties if they were found to be negligent and would be ordered to recall the defective vehicles.
Prompted to take swift actions and to find out the reason behind these EV fires, a panel of experts was established and their results shocked the nation.
Under the careful investigation of the panel and other agencies, faulty batteries that got overheated due to the usage of low-grade materials were found to be the reason for EV fires.
This discovery led to a new spark of heated discussions that questioned the safety of Indian consumers in using these vehicles.
Questioning several aspects of the country's electric two-wheeler manufacturing process with how EV start-ups are making battery packs since all units are subject to be tested under India's own Automotive Industry Standards (AIS) set by the Automotive Research Association of India (ARAI), the fire incident revealed some fatal flaws in the implementation level of the Battery Safety Standards in India.
However, before taking a look at the Battery Safety Standards in India in detail, let us check out some of the basic facts and history of ARAI and its significance for EVs in India.
It all Begins with…
What is ARAI?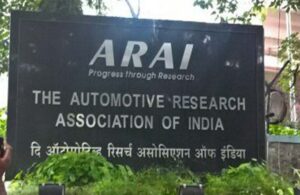 Known as ARAI or Automotive Research Association of India, this governing body was established in 1966 as one of the leading automotive Research and Development organizations of India established under the direction of the Automotive Industry with the Government of India.
Being an autonomous body affiliated with the Ministry of Heavy Industries, Government of India, the organization has a crucial role in assuring safe, less polluting, more efficient, and reliable vehicles.
Also known as one of the prime Testing and Certification agencies that has been notified by the Government of India under Rule 126 of Central Motor Vehicle Rules, 1989, ARAI's mission is to create and implement a safe, sustainable, and SMART Mobility Solutions.
Functions of ARAI
Checks Battery Performance and Safety Testing
Tests Vehicle Performance and Homologation as per CMVR on Chassis Dynamometer and Test Tracks
Provides Charger Testing and Certification
Electric Vehicle Development
Electric Motor Characterization
Gives Rechargeable Energy Storage System (REESS) Evaluation using CAE
Checks the four poster durability of Electric Vehicle in Climatic Chamber for structural adequacy, etc.
Battery Safety Standards in India – Formulated under ARAI
Before stating some of the most common Battery Safety Standards in India, we must have an understanding of the type of categories these standards apply to.
That is,
M Category- Motor Vehicles with at least four wheels that are used for carrying passengers.
N Category- Motor Vehicles with at least four wheels and are used for carrying goods and people.
L Category- Motor Vehicles with less than four wheels and quadricycle.
Finally arriving at the few Battery Safety Standards in India, the list includes,
AIS-038 – Construction and Functional Safety Requirements
According to this Battery Safety Standard in India, the requirements of a vehicle with regards to specific requirements for the electric power train and requirements of a vehicle Rechargeable Electrical Energy Storage System concerning its safety is checked.
AIS-039 – Measurement of Electrical Energy Consumption
This standard helps in measuring the consumption of electric energy by electric vehicles.
AIS-040 – Method of Measuring the Range.
This standard helps in testing the range for the electric vehicles
AIS-041 – Measurement of Net Power and The Maximum 30 Minute Power.
This ARAI standard helps in the measurement of the net power of the electric vehicle and also explains the working and benefits of the maximum 30-minute power.
AIS-049 – CMVR Type Approval for Electric Power Train Vehicles.
According to this standard, grade-ability for electric vehicles is tested.
AIS-156 – Battery and Vehicles Safety
This Battery Safety Standard in India consists of a variety of torture tests, that are specifically designed to gauge the robustness of the battery or the Rechargeable Electric Energy Storage System (or REESS as mentioned in the document published by ARAI detailing the AIS-156 procedures).
Other than these Battery Safety Standards in India, ARAI has also specified some other standards for EVSE, charging standards, and Hybrid vehicles AIS123 Part1, Part2, and Part3, AIS138 Part1, Part2 / IS 17017 and AIS131 among others.
Recent Updates on Battery Safety Standards in India
Impacting the L category vehicles, a new amendment was issued under the recommendations of the expert committee report and the MoRTH issued an amendment to Battery Safety Standards in India for AIS 156- Specific requirements for motor vehicles of the L category with the electric power train.
Another amendment was made in AIS 038 Rev. 2 – Specific requirements for Electric Power Train of motor vehicles of M category and N category.
These amendments were issued after the retrospections of the recent EV fire incidents and would be in effect from October 1, 2022.