Automotive two-wheeler giant, Bajaj Auto has revealed its plans to invest Rs 750 crore in capital expenditure in the ongoing financial year, FY23, to set up facilities for its electric two- and three-wheelers as well as ramp up its premium motorcycle volumes.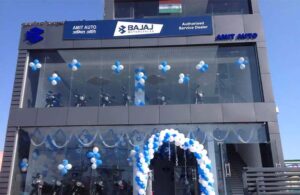 This kind of investment is among the highest annual investments made by the company for the adoption of new technologies and capacity creation in recent times.
Dinesh Thapar, Chief Financial Officer (CFO), Bajaj Auto, says the current investment is a step up over the past. The investment is allocated towards establishing an EV facility for two-wheelers and three-wheelers, in Waluj, Maharashtra. Besides this, a part of the investment will be spent on the expansion of a new manufacturing facility in Chakan that will be used to make Bajaj's upcoming premium motorcycles, Thapar says.
In December 2021, Bajaj Auto established its Rs 300-crore electric two-wheeler plant in Pune's Akurdi region where it currently manufactures Chetak electric scooters. The plant has been designed to manufacture 5,00,000 electric two-wheelers per annum.
The company had earlier hinted at introducing an electric model under the Husqvarna brand as well which means Bajaj Auto will also have a presence in this evolving segment.
"We have gradually increased our presence in 40 cities across the country," Rakesh Sharma, executive director, Bajaj Auto, says. "We are also working towards expanding the EV portfolio to cover different emerging segments and geographies. Over the next 18 months or so, you will see three or four introductions that will attack new segments, not the same segment, but it will be under the Chetak Umbrella."
Speaking of its Chetak electric scooter, Bajaj Auto posted a 50 percent growth, with the Chetak crossing 10,000 units in the second quarter of FY23 as against 6,200 units in the first quarter.
In the premium segment, the company has already added to its Pulsar brand a new 250cc model last year and is planning to come up with more models. The company adds that the new Bajaj Pulsar platform will be expanded further to strengthen the company's portfolio in the premium motorcycling space.
In terms of the motorcycle segment performance, while there has been muted demand for entry-level 100cc bikes, particularly in rural areas, the company is witnessing significant growth for 125cc bikes.
Bajaj recently launched the CT 125X.
According to Sharma, since FY20, the industry has reshaped itself towards the 125cc segment, and it now constitutes almost 50 percent of the industry, while it was just about 40 percent three years ago.
Hence Bajaj plans to invest its resources towards the 125cc plus segment and improve its profitability and market share.