Williams Advanced Engineering (WAE) has unveiled an ultra-high performance electric vehicle platform designed to accelerate the ambitions of hypercar manufacturers, from start-ups to OEMs.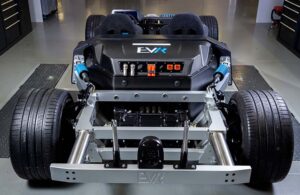 With its first public showing at the Low Carbon Vehicle Show, the new EVR concept enables brands to launch unique high-performance electric vehicles based on a state-of-the-art yet cost-effective platform; combining WAE's extensive vehicle and powertrain engineering experience in one innovative package.
Just one of several EV-focused innovations on display at the event, which is held from September 7-8th at the Millbrook Proving Ground, WAE is also unveiling its new Scalable Battery Module (SBM) system and will feature the prototype Triumph TE-1 electric motorbike together with the e-powertrain, underlining its position as a leader in high performance electrification.
The latest iteration of WAE EV platforms, EVR is focused on the growing electric hypercar sector, with a lightweight composite structure that mounts the high-performance battery system in the middle of the vehicle, optimising centre of gravity.
EVR's inherent flexibility and modularity means WAE's offering to customers is unique. For start-ups, EVR provides a complete turnkey solution, with WAE delivering the entire vehicle, with exterior design support supplied by the customer or a WAE partner.
For OEMs, EVR accelerates route to market, with the entire engineering and assembly of the rolling chassis completed by WAE. Capable of being adapted for both the OEM's design and styling requirements, EVR reduces time from development to market launch.
Equally, for OEMs and Tier 1s, EVR provides the opportunity to integrate new products to push the boundaries of electric powertrain technology, with the rolling chassis capable of being continuously developed with WAE's newest motor and battery technologies.
Paul McNamara, Williams Advanced Engineering Technical Director, said: "EVR combines WAE's exceptional expertise in motorsport-bred lightweight, composite structures and high-performance battery powertrains with our knowledge in developing and delivering electric vehicle programmes. It rapidly accelerates high performance electrification offering a turnkey solution for both start-ups and OEMs with an affordable business case, reduced time to market and a highly flexible architecture."
Another debut at CENEX LCV is WAE's Scalable Battery Module (SBM). Utilising WAE's proprietary 'Sense Chain' architecture, the SBM system eliminates the replication of electronics, while enabling independent scaling of voltage and capacity and the realisation of bespoke battery concepts in record time.
Rob Millar, Head of Electrical, Williams Advanced Engineering commented "We are delighted to be showcasing this innovative new technology at LCV-CENEX which offers greater flexibility and speed to market for customers across a wide range of sectors"
Also on display at CENEX LCV will be the Triumph TE-1 prototype bike together with the electric powertrain, developed by WAE. A unique collaboration between Triumph Motorcycles, WAE, Integral Powertrain Ltd, and WMG, University of Warwick, funded by the Office for Zero Emission Vehicles through Innovate UK, the TE-1 project was set up to create ground-breaking developments in specialist electric motorcycle engineering and innovative integrated technology design.
WAE's battery technology delivers 'real world' e-motorbike solutions with a range of 161 km (99miles), 130 kW of peak power, a weight of just 220kg and a 0-80% charging time of only 20mins.
Craig Wilson, Williams Advanced Engineering CEO, said: " WAE has grown from an embryonic business in 2010 to one which now employs over 500 people engaged in leading-edge and transformative technologies for a growing list of applications, sectors, and clients. The array of electric vehicle-focused innovations debuted here today at CENEX LCV underlines our capabilities in the development of high-performance solutions for the rapidly expanding EV market, further underpinning the company's exciting global industrialisation plans"