Leading Tech-Enabled EV-as-a-Service platform, Zypp Electric was founded in 2017 with a Mission Zero Emission and to make India carbon-free by using an ecosystem of Electric Vehicles and EV based technology to make last mile logistics sustainable and emission free.
Lending his views on leveraging IoT in electrifying last-mile deliveries, Akash Gupta, Co-Founder & CEO, Zypp Electric had a brief chat with Aishwarya.
Mention Zypp Electric's latest services that set them apart from their competitors in the last-mile delivery segment.
Zypp Electric is the largest full-stack EV-as-a-service brand which provides state-of-the-art technology and offerings to solve last-mile logistics in India. Our focus is on solving the EV supply and helping businesses to scale fast by empowering delivery and business partners. We foster maximum earning potential for our delivery partners through innovative cross-utilization strategies. For delivery partners, the platform offers invaluable insights into earnings, facilitates seamless order acceptance, and incorporates a convenient keyless on-off mechanism and token-based allotment, enhancing their overall experience. On the other hand, business partners benefit from deep insights into real-time fleet tracking, and order tracking functionalities and the least churning rate of delivery partners due to EVs. This level of transparency provides them invaluable visibility into their operations and helps them scale faster.
Kindly shed some light on Zypp's tech-enabled ecosystem used in logistics and how they are leveraging IoT in electrifying last-mile deliveries.
We have a full stack of SaaS offerings which efficiently monitor the largest AI/ML IoT-enabled fleet in the country. Our product enables better decision-making for whole EV fleets, optimizing vehicle uptime and utilization across hubs and locations. Naming the SaaS offering, we have a Client Dashboard, Fleet Management Dashboard and Analytics Dashboard that have seamless integration with Pilot Apps and Fleet Apps for precise location fleet monitoring and assess ride behavior analysis to ensure safety and efficiency. Our motor lock feature enhances security and visibility on deployed fleets. We have a battery management system that continuously monitors and optimizes battery health, ensuring the longevity and reliability of their electric vehicles. This technology enables collecting and analyzing extensive big data, facilitating continuous service improvement, timely repairs, and efficient stock inventory management.
Commercial vehicles play a key role in the logistics segment, how is Zypp planning to leave a mark in this segment?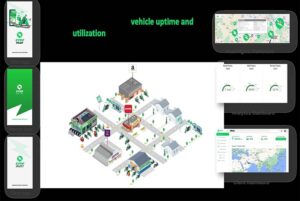 With the ongoing increase in petrol prices, last-mile delivery has posed challenges for companies, making it difficult to achieve positive unit economics. Logistics Also, riders are not able to realize their earning potential completely. Zypp Electric is taking the lead in electrifying the fleet with its full-stack solution that helps scale the EV fleet. We get the best-in-market EVs from our OEM partners backed by an extensive network of battery swapping stations and Roadside assistance for delivery partners with easy in-app features assistance, this has been empowering riders to maximize their earning potential. Our clients are also bearing benefits because of reduced delivery costs. We have a holistic approach that caters to our riders and clients while supporting the entire EV ecosystem with active 16,000+ EVs on the road empowering last-mile logistics.
As every industry is bidding big on sustainability and carbon neutrality, tell us about Zypp's stance on this matter and any key initiatives you have taken to inculcate SDG initiatives.
At Zypp Electric, we are committed to promoting sustainable Development Goals and achieving the mission of zero carbon emissions which also aligns with the Indian government's vision of achieving nationwide electrification by 2030 for a cleaner and sustainable future which aligns with the 13th SDG.
Zypp Electric has been reducing carbon emissions, enabling income Gig-workers to have better livelihoods as per 1st SDG and have strong coordinated execution with the governance.
In our pursuit of sustainability, we actively contribute to several United Nations Sustainable Development Goals (SDGs), encompassing various objectives. This includes ensuring affordable and clean energy as per the 7th SDG and building sustainable cities and communities according to the 11th SDG. By taking these initiatives, we're addressing specific goals and driving positive change in society while championing a greener, more sustainable future.
Kindly brief us on Zypp's initiative for startups, Evolve that is expected to come back with Season 2 soon.
We introduced the EVolve Innovation Challenge in 2021 to foster innovation in the Indian EV landscape. We have a simple core fundamental that we can't do everything ourselves in the EV space and hence, we find, incubate & fund early stage startups which need support via partnering with us. Through this program, we hope to identify and support startups actively working on innovative solutions for driving EV adoption in the country to drive India's mission of electrification by 2030. We conducted its second season recently. The winners will be announced soon. We are preparing for the third season that will be rolled out next year.  
Kindly tell our readers about Zypp rental services and what benefits gig workers get by leveraging Zypp services.
Along with boosting the adoption of EVs, we intend to make it affordable. For this, we offer rental services catering specifically to delivery partners. By offering easy rentals, Zypp Electric helps gig workers own electric two-wheelers at low cost. It also reduces their monthly expenses on petrol and maintenance. Simultaneously, we ensure that charging and swapping electric vehicles becomes hassle-free for drivers through our wide network of charging stations and swaps.
Most importantly, the initial swaps are free, and subsequent charges are nominal. It allows gig workers to go the extra mile for delivery, which helps them earn more through our partners like Zomato, Uber, Rapido, Amazon, etc. We are not just improving accessibility to EVs but also enabling gig workers to improve their earnings while contributing to a greener environment.
Any upcoming expansion plans or projects the company is working on?
We've already established a strong presence in over six cities. We will be venturing into Mumbai soon, using our business model and incorporating local elements to cater to the city's unique needs. We have expansion plans in the pipeline, but specific locations will be revealed soon. Currently, we're focusing on increasing our fleet in Bengaluru to 10k EVs. At present, we have a plan to deploy half a million e-scooters within the next 3.5 years. We believe we can scale this initiative into a business worth over INR 10,000 crores.
While we're proud to have the largest 2-wheeler fleet, we look forward to expanding the 3-wheeler segment. We're actively recruiting, deploying new fleet units, and establishing key business partnerships to achieve this. Our aggressive expansion efforts are not only about growing our business; they also reflect our commitment to supporting our delivery partners. We understand their hard work to earn a livelihood, and we believe it's crucial to provide them with affordable and best-in-market insurance plans. Ensuring the well-being of our partners is our top priority, and we're dedicated to making this happen.