Accustomed to the ever-rushing traffic noises on a vehicle-jammed road, people around the world received a blessing in disguise with the silence of newly introduced electric cars which produce negligible noises when operated.
However, this lack of noise soon revealed its shortcomings. Though, driving an electric vehicle in silence can bring joy to those who don't relish the rumble and whine of an internal combustion engine.
But the real issue occurs when this deadly silence makes it difficult to hear from more than a few feet away, thereby becoming a life-threatening issue for passers-by who are either visually impaired and can't see a vehicle approaching or have been using headphones while crossing a street.
Considering the growing reports of accidents, a report from reputed industry experts revealed that due to the lack of sound of electric cars, EVs are 40% more likely to hit pedestrians. This is considered one of the main Reasons for Adding Noise to Electric Cars or say a bit of Sound of an Electric Car.
Since pedestrians can't hear any Sound of an Electric Car and their approach until it's just a second from hitting them, there is an urgent need to add some type of Noise for Electric Cars. Therefore adding another Reasons for Adding Sound of an Electric Car.
International Norms on Sound of an Electric Car
In efforts to normalize this vicious cycle of accidents, many countries' governments issued a set of norms and mandated that EVs should produce warning Sound of an Electric Car.
According to the EV rules for the EU, every transport manufacturer requires new EVs to add so-called acoustic vehicle alerting systems that started in 2020.
Acoustic Vehicle Alerting System or AVAS is supposed to kick in and make Sound of an Electric Car when an EV's speed is under 20 kilometers per hour and when it's in reverse.
Also, under the rules, existing electric vehicles are needed to incorporate the AVAS device by July 2021.
Similar to the rules of the EU, the United States also issued a few mandatory norms on Noise for Electric Cars and EVs that all fully electric vehicles and hybrids operating in electric-only mode have to make some Sound of an Electric Car at speeds below 18.6 mph.
India's Take on Noise for Electric Cars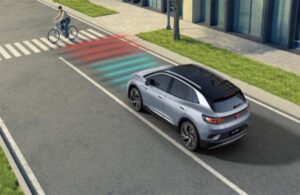 Recently, taking a firm stance on the lack of Sound of an Electric Car, the Government of India, in consideration of the booming sales of electric cars, will soon make it mandatory to produce some kind of sound either by natural or artificial means to alert pedestrians.
Sound of an electric car will alert the people nearby of the oncoming danger and is therefore necessary under the new set of norms proposed by the Central government's Automotive Industry Standards Committee (AISC).
Under the AISC proposed norms, adding Noise applies to both passenger cars and goods carriers. These latest draft standards will soon be inducted into the Central Motor Vehicles Rules, 1989, by its Technical Standing Committee.
According to the new rules, EV manufacturers are required to work on their drive powertrains and make them produce some kind of Sound of an Electric Car when on the move.
And, if such a thing couldn't be achieved, they should have to install an Acoustic Vehicle Alerting System (AVAS), that's similar to a loudspeaker.
Noise Branding- Innovative Take on EVs
Coming up with a unique sound system, Mercedes-Benz has developed an audio alert system for its electric vehicles that are sold in the United States, Europe Japan, and China at its acoustic test facility in Sindelfingen, Germany.
According to the sources, sounds for Asian EV markets and the European Union are somewhat similar stimulating the concern of Sound of an Electric Car, while the tone for American cars is uniquely different.
Similarly, Jaguar has also developed its unique audio alert system for its all-electric I-PACE luxury crossover, complying with both the EU's and American regulations.
Taking on the innovation to the next level, German automotive parts supplier, Hella has developed an acoustic warning system for EVs in India.
The new AVAS will be demonstrated at the Busworld in Brussels between 18th October and 23rd October this year.
According to the company, the Hella AVAS system simulates an artificial noise of at least 56 decibels and increases in intensity when the vehicle speed increases above 20 km/h.
The simulated engine Noise for Electric Cars is quietened when the sound of the tires rolling on the road gets loud enough.