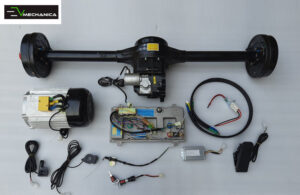 Deemed as one of the most active sales markets of India, the automotive market of India has witnessed the biggest transition of the century with the introduction of electric vehicles.
Targeting the ever-increasing carbon neutrality mindset of world leaders on the impact of pollution on nature's resources, the Indian government had pushed for an aggressive take on electric mobility transition on a mass scale.
Reported to support a gigantic population of registered vehicles, India's count of automobiles has spiked from just 3 lakhs to nearly 30 crores in 2019.
And despite the chronic slowdown witnessed in the COVID-19 era, the sales of ICE and electric vehicles are still following a straight upward trend.
Considering the huge operational two and three-wheelers currently active on Indian roads, a complete switch towards electric mobility by 2030 is a difficult target to achieve.
Foretelling the present scenario, the Government had introduced EV Retrofitting Kit in India that solves the above-stated issue from its root.
However, before discussing the Role of EV Retrofitting Kit in India and the companies offering these, let's clear the air on What is EV Retrofitting Kit in India? And How will it Affect the Indian Mobility Market in Long Run?
EV Retrofitting – What is it? 
Prior to the discussion of What is EV Retrofitting Kit in India, we must understand that the word "retrofitting" is not a new word for Indian consumers.
Going back to the early judgment of the Supreme Court of India in 1998, the court ordered to phase out of diesel buses from Delhi's roads to reduce the growing pollution on the streets.
Here, the bench recommended removing or retrofitting the existing polluting buses with a cleaner alternative like Compressed Natural Gas (CNG).
Following this, multiple CNG-run buses as well as vehicles were introduced in India and are still a popular choice of many users.
Coming back to our topic of discussion on What is EV Retrofitting Kit in India, the term EV Retrofitting refers to the act of converting existing petrol or diesel-run vehicles into an EV.
According to the EV Retrofitting Kit in India, the process consists of changing the original engine and its related components with a new alternative energy source.
The new source can either be an additional system that is added to the existing vehicle motor or it is a complete replacement of the existing engine with a new motor and drivetrain.
Apart from the retrofitted parts, all other components will stay the same on the vehicle, thus making it easier for the user to replace or repair the vehicle's parts like suspension, brakes, etc., at his convenience.
Parts Involved in EV Retrofitting Kit in India
Stating the types of parts that are used in a EV Retrofitting Kit in India, includes,
Motor
Transmission Adapter Kit
Charger
Controller
Chill plate
DC/DC Converter
Throttle Controller
Shunt
Controller Mount
Steps to Convert a Petrol Car into Electric Car with EV Retrofitting Kit in India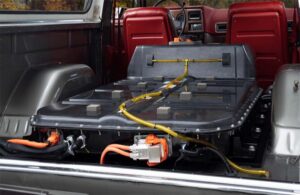 Contrary to the simple retrofitting process employed by CNG kits, EV Retrofitting Kit in India is specific to different models of cars and vehicles.
Explaining the process of EV Retrofitting in terms of simple steps, let's take a peek at how we can easily convert an ICE-based vehicle to an EV one.
Applying retrofitting kit on a two-wheeler or Maruti 800 is far easier than retrofitting a minivan or sports utility vehicle.
Make sure that all of the internal components are strictly sound and in operating order.
Remove all ICE-related components like engine, gasoline tank, muffler, exhaust, starter, and radiator, etc.
Decide to either install a lead-acid or a lithium-ion battery.
Decide the number of batteries required by the vehicle and the available area in which they will be installed.
Add a power controller to govern the flow of energy between the battery and the motor, a charging system to replace the batteries with an electric circuit, wire harnesses, and a variety of other components are also required.
The overall cost of the EV Retrofitting Kit in India is also considered according to the type and range of the vehicle you require.
Companies Involved in EV Retrofitting Kit in India
Global electric mobility players that are presently active in the market include, Make Mine Electric, EV Source, Green Shed Conversions, EV West, Transition-One, Green Motors Inc., Eco Electric Cars, BEDEO, and RETRO-EV.
Specialist players of India consist of Folks Motor, E-Trio, GoGoA1, LoopMoto, RACEnergy, Northway Motorsport, Cell Propulsion, Volta Automotive, Green Tiger, Omega Seiki Mobility (OSM), EV Retron Energies, etc., to name a few.
Among these, only two or three players are certified by the Automotive Research Association of India (ARAI).