Closing the gaps between sustainability and clean mobility, Electric Vehicles (EVs) have come a long way since their inception.
Fueled by the ever-increasing rates of fuel prices, pollution status as well as the growing concerns of climate change at the global level, EVs have emerged as the new class of mobility that is expected to soon switch out every other conventional mode of transportation.
However, nothing is perfect!
We can say the same about EVs that are now facing the challenges of battery discharge issues, faulty parts, lack of charging infrastructure as well as range anxiety for their drivers.
Unlike battery discharge issues during traveling, every other issue presented above is expected to be solved easily once the technology and infrastructure building advances in the next few years.
This is where EV buyers hesitate to take a plunge into the widespread hype of EVs. To combat this emerging issue, a new method of Battery Swapping was first proposed in the early 1896.
To better understand the concept of Battery Swapping, let's take a peek at "What is Battery Swapping" and "How does Battery Swapping Work?".
What is Battery Swapping?
Pushing the sales of electric vehicles in a positive direction, multiple private players are looking for solutions to make EVs more affordable, easy to charge and economical to operate and the technology providing all these benefits to a fleet operator is Battery Swapping.
So, What is Battery Swapping?
To understand Battery Swapping from a clear perspective, let's take one of the most common examples everyone is quite familiar with.
Being a resident of India, one must have seen a regular swap of LPG cylinders once a month at your doorstep as a new cylinder is replaced with your used ones.
Battery Swapping follows the same concept in electric vehicle space.
Battery swapping or also known as battery-as-a-service enables EV owners to replace the discharged batteries of their respective EVs with charged ones at any swap station.
Once an EV battery gets discharged, the owner can easily go to its nearest Battery Swapping Station and change it with a fully charged one.
This solves one of the most pressing matters of setting up multiple charging stations and also helps in reducing the range anxiety of drivers.
Also, battery leasing can help EV owners to save the cost of purchasing a battery again.
The swap service is comparably less time-consuming taking only a few minutes than charging an EV at a battery station which could take hours.
How Does Battery Swapping Work?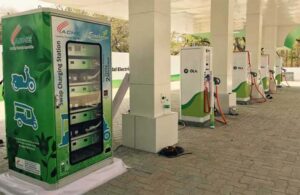 After getting a clear solution to "What is Battery Swapping", we must figure out how this swapping work in real-time.
Typically, an EV owner can go to any energy operator and lease the charged batteries when it drains out and then pays for the electricity consumed, similar to how consumers use LPG cylinders.
In turn, a few energy operators will purchase these batteries in bulk and set up charging stations to charge discharged batteries.
And the time taken to swap a battery is very similar to refilling the ICE vehicle with fuel.
Nonetheless, unlike ICE vehicles that one can refuel at any petrol pump, an EV owner will have to form a pact with a specific energy operator to swap the batteries in only their outlets each time.
Future Prospects 
Understanding the concept of leasing batteries in a Battery Swapping station, the technology has been tested for various segments like e-two-wheelers, e-three-wheelers, electric cars and even e-buses.
Another advancement we are likely to see in the near future is the type of Battery Swapping stations that can be either manual or automated.