Bengaluru based electric vehicle manufacturer, Ultraviolette Automotive has revealed the long-awaited F77 electric motorcycle at a starting price of 3.80 lakh (ex-showroom).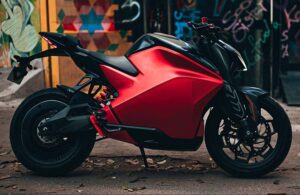 The F77 electric bike will come in two variants – standard and Recon.
The latter is priced at ₹4.55 lakh (ex-showroom).
The F77 and the F77 Recon offer an IDC Range of 206 kilometers and 307 kilometres, respectively. The standard variant gets a 7.1kWh battery pack, whereas the Recon and the Limited get a bigger 10.3kWh battery pack.
Peak power and torque figures stand at 36bhp and 85Nm for the standard, 38.9bhp and 95Nm for the Recon, and 40.5bhp and 100Nm for the Limited.
Performance-wise, the standard version can do a 0 – 60km/h sprint in 3.4 seconds and has a claimed top speed of 140km/h.
Ultraviolette Recon can do the same sprint in 3.1 seconds, before reaching a top speed of 147km/h.
The Limited, on the other hand, is even faster, as it can go from zero to 60km/h in just 2.9 seconds and has a top speed of 152 km/h.
Ultraviolette F77 weighs 197 kg (kerb weight), whereas the Recon and Limited are 10 kg heavier, at 207kg. The ground clearance for all variants is the same at 160mm.
The electric bike comes with three riding modes – Glide, Combat, and Ballistic – and also gets a variety of features, like smartphone connectivity and LED lighting.
Deliveries for the F77 will begin first in Bengaluru, starting in January 2023, and then gradually expand to other regions of India, including Chennai, Mumbai, Pune, Cochin, Hyderabad, Ahmedabad, Delhi, Lucknow, Gurgaon, Jaipur, Kolkata, Guwahati, and Ludhiana. The motorcycle will have a 3-year / 30,000km standard warranty.