Toyota will be launching its new home battery, the O-Uchi Kyuden storage system, to builders and general construction companies in August as they decided to enter into this market.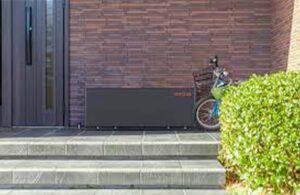 "Toyota's announcement is one more indication of a larger trend," said Jason Burwen, American Clean Power Association vice president of energy storage. "Electric vehicle makers see themselves not only as new stakeholders in the power system, but also increasingly as new players in that system as providers of energy storage — whether in supplying battery systems directly to homeowners, businesses and utilities, or in enabling their vehicles to interact with the operations of buildings and the power grid," he added.
"Toyota new distributed storage system uses its many years of electrified vehicle development as well as on-board parts and units," the company said. The system can be charged by solar panels and provide additional power from electricity stored in EV batteries, at 100V AC, including when the lights go out, Toyota said.
The number of discarded EV batteries is soaring with the rise of electric car and truck purchases and reusing them for storage would diminish the mountain of dumped batteries. But reuse comes with key challenges, principally related to cost, said Jim Greenberger, executive director of NAATBatt International, a nonprofit trade association working to advance electrochemical energy storage technology for emerging, high-tech applications.
"There is ultimately a cap on second-life batteries because of their recycling value," which has risen with the war in Ukraine, he added.
The rising costs of nickel and cobalt, in particular, are driving more battery recycling, as well as that of lithium, the extraction of which is more difficult. If it costs $100 to enable the reuse of EV batteries in a storage system, the company must make more than $100 on the reuse, Greenberger pointed out.
In addition, reuse is more complex but that has not stopped Toyota from supporting it. And if anyone can make second-life batteries economically viable, it is Toyota and other major car makers. "Massive and repetitive reuse in the same application will bring down the costs," added Greenberger.
Toyota, and other big EV companies, not only have considerable ability to drive down the cost of EV battery reuse, but they also closely guard their batteries' proprietary information.
Toyota's use of its second-life EV batteries may not only drive down the costs but it would keep it from having to share its secret battery technology with startups and other companies working to reuse EV batteries for energy storage, Greenberger pointed out.