Electric Vehicles (EVs) have set a new trend in the automotive world. Composed of a battery pack, battery management system (BMS), charging station, which is also called electric vehicle service equipment (EVSE) or an off-board charger, and an onboard charger, the global automotive on-board charger market of an electric vehicle was previously valued at USD 3.23 billion in 2021 and is now predicted to surpass a net valuation of USD 9.38 billion by 2027 end.
Describing Top Onboard Charger Manufacturers and their offerings in more detail, an onboard charger is responsible for the final stage of charging the battery pack with the charger taking the AC power source from the EVSE and transforming the power into the required battery-charging profile.
In simpler terms, an onboard charger (OBC) is a device that easily converts AC power from any AC source into the practical DC form. These onboard chargers are usually mounted inside the vehicle and their main function is power conversion.
Due to this, Top Onboard Charger Manufacturers offer solutions to take the advantage of charging the electric vehicle using the power outlet at home while eliminating the need for buying any extra equipment for power conversion.
Laying out a new list of Top Onboard Charger Manufacturers that offer a wider range of EV charging units,
Top Onboard Charger Manufacturers  
Listing out some of the renowned Top Onboard Charger Manufacturers, the name includes,
BorgWarner Inc.
Founded in 1928 as Borg-Warner Corporation, this company named under the list of  Top Onboard Charger Manufacturers was formed as a fusion of companies including Borg & Beck, Marvel-Schebler, Warner Gear and Mechanics Universal Joint.
Headquartered in Auburn Hills, Michigan, this American company maintains production facilities and technical systems at 93 sites in 22 countries worldwide and deals in clean and efficient future technologies for all types of propulsion: combustion engines, hybrid vehicles and electric vehicles. It also has acquired Delphi Technologies, Akasol and Santroll as well as Hubei Surpass Sun Electric (SSE) and Rhombus Energy Solutions to strengthen BorgWarner's EV product portfolio.
LG Electronics
Headquartered in South Korea, LG Corporation was formerly called Lucky-Goldstar from 1983 to 1995 and is a South Korean multinational conglomerate founded by Koo In-hwoi and managed by successive generations of his family.
Some of its consumer-based products include televisions, home theater systems, washing machines, computer monitors, refrigerators, wearable devices, solar modules, smart appliances and, formerly, smartphones and is now actively manufacturing onboard chargers for electric vehicles too. Thus, making its name in the list of Top Onboard Charger Manufacturers.
Hyundai Mobis Co., Ltd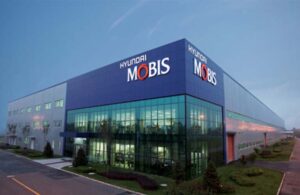 Based in Seoul, South Korea, this onboard charger manufacturer was established on June 25, 1977, as Hyundai Precision & Industries Corporation. Following this, the company renamed itself as Hyundai Mobis in 2000.
It offers chassis, cockpit, and front-end modules, safety products that include airbags, headlights, anti-lock brake systems and even electronic stability control products, steering parts, multimedia systems, UVO systems.
Known as some of the Top Onboard Charger Manufacturers, it also supplies after-sales service parts for vehicles and focuses on A/S parts sales, module parts manufacture and parts export.
Toyota Industries Corporation 
Making its name in the list of Top Onboard Charger Manufacturers, Toyota Industries Corporation is a Japanese machine manufacturer and still actively manufactures automatic looms, and is the company from which Toyota Motor Corporation developed.
Toyota Industries has been developing a wide range of products as they manufacture automobiles and automobile-related products like vehicles, engines, car air-conditioning compressors, car electronics components, and stamping dies and has now stepped up in the electric vehicle industry.
Valeo
Founded in 1923, this French-based global automotive supplier is listed on the Paris Stock Exchange and supplies a wide range of products to automakers and the aftermarket.
Securing its place in the list of Top Onboard Charger Manufacturers, Valeo's offerings include, Driving Assistance Systems, Powertrain Systems, and Thermal Systems and Visibility Systems that are mainly designed to produce innovative and efficient lighting and washing systems for safer and more comfortable manual driving and an improved and enhanced travel experience in autonomous vehicles.