Daily commute transportation is considered one of the biggest markets in the vehicle sector of India.
Dealing with rapid urbanization happening in major parts of the country, personal vehicles are generally avoided for daily commutations to avoid traffic jams and save fuel.
This has led to the emergence of a new class of local vehicles to satisfy the general public. Here autos and E-rickshaws markets thrived in India in the last few years.
Seeing the rapid demand for E-Rickshaw models, many entrepreneurs began to notice this sector and many OEMs started making good inroads into this emerging sector.
Though the two-wheeler segment In India has always dominated the three-wheelers or four-wheelers, there are still many E-Rickshaws operating on the roads of India.
Generally speaking, the majority of Electric or E-Rickshaws are run on Lead-Acid batteries and Lithium-Ion batteries.
Here we have carefully listed some of the Top E-Rickshaw Manufacturers in India that have taken over this market to the next level.
Top E-Rickshaw Manufacturers in India
Piaggio Vehicles 
Known as one of the oldest names in this segment, Italian automaker, Piaggio Vehicles Pvt. Ltd. (PVPL) is considered one of the most renowned Top E-Rickshaw Manufacturers in India.
Founded by Rinaldo Piaggio, Piaggio has provided its service since 1884 as this E rickshaw manufacturer started its journey in India through the launch of Ape in 1999. Currently, Piaggio is leading the intra-city transportation league in India.
Sensing the upcoming surge of electric vehicles, the company has started providing electric three-wheelers and rickshaws.
Atul Auto 
Known as the Top E-Rickshaw Manufacturers in India, Atul Auto Limited has been named India's youngest and fastest-growing E-Rickshaw manufacturer. Making its place in the list of the World's top 5 three-wheelers brands, the company manufacturer supplies various vehicles ranging from cargo three-wheelers and auto rickshaws.
Founded in 1986, there are more than one million Atul vehicles plying on the roads across the World.
Kinetic Green
One of the leading players in the intercity transportation segment, Kinetic Green is one of the Top E-Rickshaw Manufacturers in India. This electric rickshaw manufacturer was founded in 1972 by HK Firodia.
Offering a wide range of products, like 3-wheelers, scooters, E-cycles and buggies, Kinetic began its production plant by manufacturing Luna Moped. Kinetic Green's popular offerings in the electric vehicles sector include Kinetic Safar Smart and Kinetic DX.
Mahindra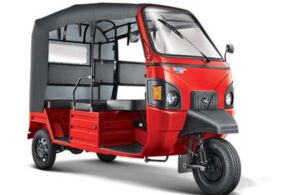 Launched as an all-electric-powered e-Alfa Mini rickshaw in India, Mahindra offers a 4+1 seating space, wherein these E-Rickshaw could carry five passengers at a time.
Normally sighted withinside the Delhi-NCR vicinity, these EVs will quickly be brought to Lucknow and Kolkata, considering their high-quality appropriate for last-mile connectivity.
Mayuri 
Named as one of the India's first E-Rickshaw inaugurated by Nitin Gadkari, Mayuri is listed among the Top E-Rickshaw Manufacturers in India.
In 2015, Prime Minister, Narendra Modi distributed over 3,500 E-Rickshaws to Uttar Pradesh.
Manufacturing around 288 Plus E-Rickshaws a day, the offerings include Mayuri Grand, Mayuri Pro Super Plus, Mayuri E-Cart Loader, Mayuri Dustbin Cart, Mayuri Delux Plus and Mayuri School Van.