Creating an ecosystem of sustainable mobility, The Sustainer has inaugurated a unique EV charger store in Mumbai.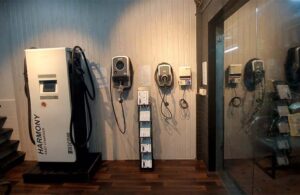 This is the city's first store where buyers can shop around for chargers for their electric two and four-wheelers.
Depending on a user's charging needs, the store offers multiple options.
These include chargers for home, AC and DC chargers, tailor-made solutions for offices and more.
The company says they offer the most practical and cost-effective charging solutions. These chargers are made by Exicom, one of the leading electric vehicle charger manufacturers in the world.
In 2022 year, EV sales were at a record high. There were sales of 4,29,217 units of EVs across the segments like two-wheelers, three-wheelers and automobiles.
Even the e-commerce segment is actively looking for electric last-mile options to optimize its costs.
Hence, as the demand for EVs increases, so will the need for EV chargers. According to a report, India is expected to get over 48,000 EV chargers over the next 2-3 years. This will be at an estimated cost of INR 14,000 crore.
Further, The Sustainer has been appointed as the Exclusive master distributor by Exicom power systems across India. Exicom provides EV chargers to major automobile manufacturers like MG, Hyundai, Mercedes-Benz, Tata, Kia, Volvo, Eicher and Mahindra. They also cater to the bus and truck industry.
The Sustainer plans to develop over 6,000 high-speed DC charging stations by 2025.
They want to offer their network to a larger range of customers including fleet and private vehicle owners.