Battery swapping services provider Gogoro has joined forces with Taiwan Semiconductor (TSMC) and Taichung City Taiwan to launch GoShare, Gogoro's electric mobility sharing service for the residents of Taichung City, Taiwan's second most populated.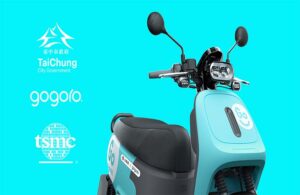 "Sustainable energy and transportation are the future, especially in densely populated cities. It is a natural step for Gogoro and a global leader like TSMC and a visionary city like Taichung to come together to provide residents with Gogoro's two-wheel electric sharing service, GoShare," said Horace Luke, founder, chairman, and chief executive officer of Gogoro. "Together, TSMC, Taichung City and Gogoro are bringing a new era of sustainable urban transportation to Taichung's nearly 3 million residents, including subsidized access to more than 50,000 university students and more than 60,000 TSMC employees. This sets a new standard for cities across Taiwan and Asia who want to encourage sustainable transportation."
"This partnership with Taichung City and Gogoro is in line with our commitment to a sustainable future. Such an ambition can only be achieved if multiple stakeholders work together, so today marks another major milestone in our journey as we combine TSMC's wide reach in Taiwan, Taichung's commitment to sustainability, with the leadership of Gogoro in electric mobility to accelerate change and share the benefits of electric vehicles with more consumers," said Lora Ho, Senior Vice President and ESG Committee Chairperson at TSMC.
As the world's largest semiconductor maker, TSMC has accomplished a variety of sustainability initiatives to reduce its carbon footprint and achieve net zero emissions by 2050.
The new partnership includes three key initiatives:
Gogoro GoShare Smartscooters will be available 24/7 to Taichung City's residents.
GoShare will provide exclusive riding coupons to 50,000 freshmen in 17 universities in Taichung City.
GoShare will expand its coverage to neighboring cities and connect multiple railway stations, playing a key role in shaping a robust urban transportation network.
In addition, TSMC joins the GoShare for Business platform to encourage employees to ride electric scooters for daily commutes. More than 60,000 TSMC employees will enjoy exclusive discounts for every GoShare ride.
"From battery swapping infrastructure to electric vehicle subsidies, Taichung City has been on the forefront of rolling out sustainable mobility solutions. Gogoro's leading innovations to deliver electric mobility and TSMC's focus on sustainability make them the perfect fit for Taichung. Together, we will create a new paradigm for cities to operate in smarter, cleaner and more sustainable ways," said Shiow-Yen Lu, Mayor of Taichung.