Financial technology company, Spring Free EV has added five executives to its Board of Advisors: Steve Girsky, Matt Horton, Richard Kauffman, Eric White and Ian Smith.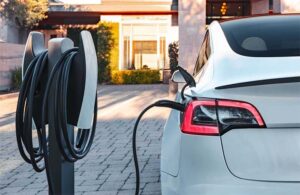 "Having Steve, Matt, Ian, Richard and Eric join our board is an incredible honor," said Sunil Paul, CEO of Spring Free EV. "Each of them has played a significant role in shaping the automotive and clean energy industries and now will help us achieve our mission to reduce CO2 emissions and make electric vehicles accessible for the 99%, not just the top 1% of earners"
Steve Girsky currently serves as Chairman Of The Board at Nikola Motor Company and is a Member of the Board Of Directors at Clarios, an EV battery company.
"A lot of drivers have signed on to the idea of electric vehicles, especially in light of worsening climate crises and rising gas prices around the world," said Steve Girsky. "No company, however, has made these drivers' attainment of an electric vehicle more accessible than Spring Free EV. I'm looking forward to being a part of a movement to make EVs and EV fleets affordable."
Matt Horton is the former Executive Vice President of Energy and Charging Solutions at Rivian, where he grew fleet infrastructure and charging network businesses in addition to energy storage activities.
"We're at a turning point with clean energy. Now, more than ever, automotive companies have access to high-quality clean energy alternatives and can produce cars that perform just as good if not better than gas-powered vehicles," said Matt Horton. "What Spring Free EV is doing is unique. They're finally leveling the playing field for drivers so that EVs are both an environmentally smart and affordable option. I am thrilled to be a part of their growth."
Richard Kauffman currently serves as the Chair of the New York State Energy Research and Development Authority (NYSERDA) and the Chair of Generate Capital, a leading financier and owner of clean economy infrastructure.
"As someone with both private and public sector experience in the green energy space, I believe Spring Free EV's plan to electrify America is precisely the solution we need," says Kauffman. "Mass EV adoption across the board is necessary to reduce emissions, and I am excited to be part of a team that has a visionary, egalitarian plan to do so."
Eric White is the founder and CEO of Dividend Finance, where he pioneered the Solar-as-a-Service offering and created a platform that simplified the process of purchasing solar panels.
"Spring Free EV financing model will make a tangible impact on our climate and our planet," says White. "We have a similar financing model at Dividend Finances, fostering solar adoption in the US, and I can tell you the model works. Applying this model to EVs will put Spring Free EV on track to help achieve mass EV adoption."
Ian Smith is the former Board Advisor & CEO for BMW Financial Services. With over 25 years of experience leading businesses in the automotive industry, Ian is passionate about making a difference in our environment.
The new additions to their Board of Advisors arrive on the heels of the Spring Free EV launch of its 'Free EV' and 'EVInstaFleet' financing solutions.