BLive has joined hands with RunR Mobility to introduce its revolutionary range of EVs to BLive EV stores across India.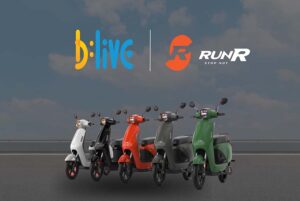 Based in Gujarat, RunR Mobility manufactures 100% indigenous smart-electric scooters with swappable batteries.
The company boasts a massive, cutting-edge 4.2-acre plant that can build 500 vehicles daily. RunR Mobility is among the few EV manufacturers in Asia that own an innovation hub incorporating in-house battery and motor testing.
While sharing his thoughts on the collaboration with RunR Mobility, Samarth Kholkar, CEO & Co-Founder, BLive, said, "It gives me immense pleasure to join hands with RunR Mobility and introduce their revolutionary range of electric vehicles to BLive EV stores. Armed with a vision to carve a mark on the global EV map as the most sustainable, profitable, innovative, and promising brand, Run R Mobility is taking giant strides in its pursuit of excellence and is aligned with our mission of faster EV adoption throughout the country."
Featuring robust infrastructure and technology, RunR Mobility is geared up to disrupt the EV industry with two path-breaking models: the RUNR HS and RUNR HS+. Speaking about the partnership with BLive, Setul Shah, Founder, RunR Mobility, said, "We are excited to partner with BLive and join forces towards our shared commitment towards wider adoption of green mobility. Our electric scooters have several benefits that make them an excellent choice for the world. They are environmentally friendly and indigenous, producing zero emissions, which will help reduce air pollution in cities."
Additionally, the EVs by RunR Mobility are cost-effective, requiring significantly less maintenance than traditional gasoline-powered scooters.
With dual swappable batteries, the electric scooters can operate continuously without requiring a long charging period. This feature is particularly useful for businesses or individuals who need to use the scooters for extended periods.
The EVs by RunR Mobility feature a lightweight and compact design, making them ergonomic and user-friendly. The company offers a lot of customization options to customers. The company provides its customers with a smooth after-sales experience with low ownership costs.
The vehicles also have smart features such as GPS navigation, real-time data and diagnostics, remote tracking, an anti-theft system, a heads-up display (HUD), efficient battery management and predictive maintenance.
RunR Mobility possesses intensive R&D facilities, including a 1000-sq-ft dedicated R&D unit.
The company has a special budget earmarked for R&D, and has a dedicated team of 5+ core members working rigorously on it.
RunR Mobility has collaborated with a Spain-based company for the validation of vehicle dynamics.