Cruising their way in the world of automotive at full throttle, Electric Vehicles (EVs) have now become the face of clean mobility initiatives.
Known widely for their cost-cutting fuel savings, with negligible noise issues, EVs have dominated the global markets in the last few years.
Taking the helm of innovation with disruptive technologies as its weapon, the electric vehicles industry is now adding a new dimension to the world of automotive manufacturing with the support of Robotics in EV Industry and automation of the manufacturing units.
Widely popularized for their high-efficiency performance, robotic arms and automated systems are generally used in conventional IC engine vehicles where spot welding is one of the most important applications of industrial robots.
This welding technique is normally used to join together the main parts of a vehicle structure to produce what's called the shell of the car.
Categorizing the classes of Applications wherein integration of Robotics in EV Industry can be seen, let's check out some of these innovations all around the world.
Role of Robotics in EV Industry – Ground-breaking Approach & Relevant Examples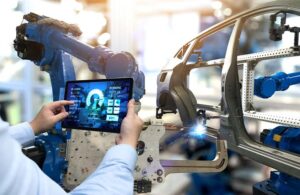 In order to maximize the efficiency rate and numbers in production, automotive manufacturers have begun to introduce Robotics in EV Industry as a part of their normal operations. Here are some of the most common anecdotes of how this feat can be achieved.
EV Charging Robot
Iterating one of the most novel approaches for Robotics in EV Industry with the introduction of mobile charging robots developed by Graz University of Technology, ALVERI and ARTI Robots, this innovation tends to independently seek out parked electric vehicles and then supply them with electrical energy.
Although not reaching the level of advancement, this prototype technology showcases the bright future of EV charging at its demonstration phase.
In another innovative display of future technology where the company has highlighted the Role of Robotics in EV Industry, automaker Ford has recently started testing a prototype robot charging station aimed at making the top-up process easier for its customers with limited mobility.
In this way, these charging stations equipped with robots are capable of plugging a cable into an EV charging port and removing it again once the battery gets full.
Robots in EV Assembly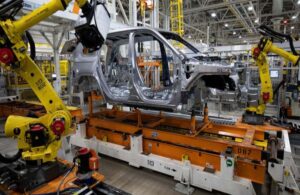 Car manufacturers have been utilizing robots for years now as tasks like welding, screwdriving, and painting are generally done in many car plants.
Since robots add to the productivity, consistency, and quality of conventional car manufacturing, these robots can do similar tasks for electric cars. Some of the common EV assembly tasks performed by Robotics in EV Industry include Battery cell insertion by the robots, assembling battery modules, enclosure of the frame as well as precise insertion of battery packs in the vehicle. Manufacturers also use robots to assemble almost all of the powertrain components.
ABB has recently launched a couple of new robot families which are now a part of the Ola mega factory with sustainable robotics solutions like pixel paint technology that optimizes paint applications to reduce emissions and enhance productivity.
Robots in Electric Cars
Citing the latest example of an innovative approach done in Robotics in EV Industry, Chinese EV manufacturer Human Horizons has released its latest EV model named GT HiPhi Z, a sedan that comes packed with gadgets and intelligent systems including the world's only "vehicle-grade" high-speed robotic arm that can move back and forth in place in less than a second.
This electric car comes equipped with an ultra-futuristic spaceship-like digital setup as it centers around the HiPhi Bot, an onboard AI companion which can adjust virtually.
AMR in EV Manufacturing
Famed for their highly futuristic loading support features, Autonomous mobile robots (AMRs) are prime examples of the new autonomy bots that work efficiently within the plant, thus adding another example of Robotics in EV Industry.
AMRs can easily navigate their way through a warehouse, can unload a truck and can also move products to the point of use or storage due to their multiple sensors working together to automate the manufacturing plants.
Luxury car manufacturer Mercedes Benz has launched a fully enabled floating S-class line with a massive fleet of automatic guided vehicles (AGVs) which share the workload amongst themselves while being controlled by fleet management software.
Conclusion
Robotics in EV Industry plays a pivotal role in setting the trends of futuristic technology in the upcoming years.
Therefore, automotive companies' focus should gravitate towards areas of digitalization, autonomous systems and electric mobility concepts to further expand the market of smart vehicles.