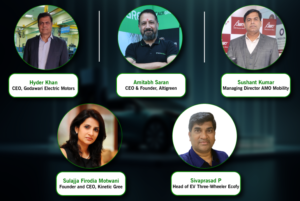 Charged due to the growing e-commerce segment, India's last-mile mobility sector is undergoing a fundamental shift with customers' clear preference for battery electric vehicles. The Electric Three-Wheelers Market is expected to hit USD 10.26 billion by 2030 with a CAGR of 20.9% during the forecast period. Talking on the same, EV Mechanica invited some of the veteran industry's experts namely, Amitabh Saran, CEO & Founder, Altigreen, Sulajja Firodia Motwani, Founder and CEO, Kinetic Green, Hyder Khan, CEO, Godawari Electric Motors, Sivaprasad Patnaikuni, Head of EV Three-Wheeler, Ecofy and Sushant Kumar, Managing Director, AMO Mobility.
Impact of Electric Three-Wheelers Market Forecast on EV Ecosystem
According to Amitabh Saran from Altigreen, the growing demand for electric three-wheelers in India is definitely a promising sign and is a reflection of seriousness and commitment towards achieving sustainable mobility.  Until recent times, electrification of fleets and increase in e-commerce, online shopping and last-mile delivery services have catapulted adoption of commercial electric 3Ws. A majority of this surge in demand is coming from smaller companies prioritizing low cost of operations, and sustainability, in their growth roadmap. They are not just suitable for Indian conditions and needs, but they also race ahead of conventional ICEs in terms of speed, performance, efficiency and reliability. One of the key contributors in accelerating EV growth has been a favourable regulatory environment, schemes, and policies like PLI and FAME to boost local manufacturing. The continuation of such efforts will surely contribute in building a future of electric mobility for sustainable development in India.                               
Sulajja Firodia Motwani from Kinetic Green explains, the Electric Three-Wheelers Market is expected to hit USD 10.26 billion by 2030 with a CAGR of 20.9% during the forecast period. It is likely to have a significant impact on the country's EV ecosystem.
Employment- The growing electric three-wheeler sector will also create jobs. Not only manufacturing and service jobs will be created as the sector blooms, but also micro- entrepreneurship at the bottom of the pyramid will flourish. Electric three wheelers offer a very sustainable and profitable self-employment opportunity for India's youth and lakhs of such opportunities will also be created with the booming electric 3 wheeler market.
Increased Economy- The electric three-wheeler sector is expected to attract further investment due to its growing demand in India. This is evident in the growth and development of electric three-wheeler manufacturing, research, and development, and charging infrastructure. Increased innovation in the EV sector is also expected, as manufacturers strive to develop new, better, and more affordable electric three-wheelers.
Positive Environmental Impact- Electric three-wheelers will help India meet its climate change goals by reducing carbon emissions, which will improve air quality.
Consumer Awareness and Acceptance- With government support, the growing demand for electric three-wheelers can be seen. The Indian government is offering a number of incentives to promote the adoption of electric vehicles and educate consumers about green mobility so that they will switch from ICE vehicles to electric vehicles.
The growth of the electric three-wheeler market is expected to have a positive impact on the Indian EV ecosystem. It will help India achieve its ambitious EV targets and become a global leader in the EV market.
Sharing similar views, Hyder Khan from Godawari Electric Motors points out that the projected growth of the Electric Three-Wheelers Market, expected to reach USD 10.26 billion by 2030, signifies a promising future for India's EV ecosystem. This upward trajectory, with a remarkable CAGR of 20.9%, reflects the increasing demand and acceptance of electric vehicles within the country. At Godawari Electric Motors we perceive this forecast as a substantial opportunity to capitalize on India's burgeoning market potential. With an emphasis on innovation and sustainability, our company will aim to leverage this growth by introducing cutting-edge technology and robust infrastructure to support the evolving demands of the three-wheeler segment. We envision fostering strategic partnerships, advocating for favorable regulatory frameworks, and accelerating the development of cost-effective, high-performance electric vehicles tailored to the unique needs of Indian consumers. Furthermore, we are committed to bolstering the local supply chain, fostering skill development, and promoting widespread awareness to bolster the adoption of sustainable mobility solutions, ultimately contributing to India's transition towards a cleaner and more energy-efficient transportation landscape.
On the other hand, Sivaprasad Patnaikuni from Ecofy states that the EV three-wheeler market is experiencing rapid growth. It is projected that by 2030, the transition to high-speed electric mobility will result in saving nearly one gigaton of carbon dioxide emissions from vehicles. The environmental benefits of EVs in the last-mile delivery ecosystem take precedence over everything else. In urban areas struggling with severe air pollution, EV-3W can reduce tailpipe emissions by 13 tons per 100 Km.
The operational cost of an EV-3W is Rs 50-60 paisa per km, whereas its diesel counterpart costs approximately Rs 3 per km, and a small delivery 4W can go as high as Rs 7 per km. This means that a commercial 3W EV operates at roughly 16% of the running cost of a fossil fuel-based equivalent and less than 10% of a 4W vehicle. This cost differential results in substantial operational savings as the diesel vehicle ages and experiences a significant drop in mileage.
According to a recent report, India's electric vehicle (EV) market, encompassing both two-wheelers and three-wheelers, is projected to achieve a remarkable 90% annual growth rate, reaching a value of $150 billion by 2030.
Sushant Kumar of AMO Mobility mentions that the anticipated expansion of India's electric three-wheeler market to a staggering USD 10.26 billion by 2030 underscores a rising trend towards sustainable transportation. This surge is not merely a reflection of changing consumer preferences but shows how the nation's EV landscape is evolving. As this market flourishes, it promises to usher in substantial investments in infrastructure, pushing for advanced research and development initiatives. We recognize the immense potential in this segment, and this renewed focus is bound to drive enhancements in product quality, design, and efficiency. These improvements are important because they set the stage for new solutions that will make transportation better. Of course, innovation doesn't stop at the vehicle itself. A thriving market of electric vehicles like e-vehicles like e-scooty, e-bikes, and e-three-wheelers necessitates the creation of comprehensive and advanced charging solutions. This kind of growth isn't just big for the country but also puts it at the forefront of an eco-friendly transportation revolution on a global scale.
Sustainable Transportation – Key to Transform India's Electric CV Segment
As multiple e-commerce companies are eager to transition their fleet towards "Green Mobility" to garner the attention of more customers.
Discussing on the same, Amitabh explains that the e-commerce brands are realizing that their consumers are becoming more environmentally conscious, and are aware of their responsibilities towards protecting the planet. They acknowledge the fact that the consumers nowadays are more inclined towards companies which essay their environmental duties and deliver products or services, keeping sustainability in mind. Since e-commerce companies rely on three and small four-wheelers for cargo operations and delivery services, the robust and larger electric 3Ws have emerged as the most viable choice to reduce their environmental impact and attract customers. Electric vehicles also bring myriad benefits for them: They are cost-effective, come with zero tailpipe emissions, offer better driving experience & performance, are highly efficient and require minimum maintenance. The increasing affinity of e-commerce brands towards e-mobility is expected to accelerate sustainability endeavours, bringing both environmental and economic benefits.
Electric three-wheelers are becoming increasingly popular in the e-commerce sector, as they are more cost-effective and environmentally friendly than traditional gasoline-powered vehicles. E-commerce companies are shifting their fleets to green mobility to reduce their carbon footprint and appeal to customers who are increasingly concerned about sustainability.
Benefits of electric three-wheelers for e-commerce:
Cost-effective: Electric three-wheelers are less expensive to operate and maintain than gasoline-powered three-wheelers and offer significant savings on the running cost, by elimination of fuel cost!  E-commerce companies can also benefit from government subsidies and incentives for electric vehicles.
Environmentally friendly: Electric three-wheelers emit no tailpipe emissions, which helps to improve air quality. They are also quieter than gasoline-powered three-wheelers, which can reduce noise pollution in cities.
Brand image: E-commerce companies can boost their brand image by participating in green mobility initiatives. Customers are more likely to support businesses that are committed to sustainability.
Also, yes there is no doubt that sustainable transportation is a key in transforming India's three-wheeler commercial vehicle ecosystem. Electric three-wheelers offer several advantages over gasoline-powered three-wheelers including lower operating costs, no exhaust emissions, and quieter operation, and the Indian government is also supportive of the transition. As more companies develop and manufacture electric three-wheelers, they are becoming increasingly accessible and affordable for e-commerce companies, comments Sulajja.
According to Hyder, at Godawari Electric Motors we are thrilled by the growing interest of multiple e-commerce firms in adopting "Green Mobility" solutions. Not only does this shift align with global sustainability goals, but it also reflects a promising market trend toward environmentally conscious practices. The transition to electric fleets is not merely a strategic move to attract more customers; it also signifies a commitment to reducing carbon footprints and fostering a cleaner environment.
Sustainable transportation undoubtedly holds the key to revolutionizing India's commercial vehicle ecosystem. With the country's increasing concern about air quality and the pressing need to mitigate the adverse impacts of vehicular emissions, the adoption of electric vehicles can significantly contribute to a healthier and greener future. This transformation has the potential to not only elevate the brand image of these e-commerce companies but also set a compelling example for the entire industry, prompting widespread adoption of sustainable practices. Furthermore, the integration of renewable energy sources in charging infrastructure would further solidify the foundation for a robust, eco-friendly transportation network in India. By embracing green mobility, these companies can not only enhance their market presence but also contribute meaningfully to India's sustainable development goals.
Sivaprasad expresses that Enterprises are realizing that EV-3Ws offer a significant 45% advantage in 'Total Cost of Ownership' compared to ICE vehicles. This advantage stems from lower operating costs, reduced maintenance expenses, and higher asset utilization (less downtime). Last-mile delivery operations typically start from well-equipped warehouses, alleviating concerns about charging infrastructure in this sector.
We believe the switch to 'Green Mobility' by e-commerce giants is the perfect blend of strategic foreseeing and environmental responsibility. It's not merely a business tactic but also mirrors the evolving mindset of today's increasingly eco-conscious consumers. The industry is poised to reshape India's commercial landscape. There are many benefits to this shift. First and foremost, it helps reduce the carbon footprint and aligns with global sustainability goals. From an economic perspective, electric vehicles like electric scooters, electric bikes, and e-rikshaws, are a smart choice. With gas prices constantly increasing, EVs promise long-term cost efficiency and make businesses look enticing. Looking even deeper we're making an environmental statement by embracing EVs. By reducing the need for traditional fuel we're creating a sustainable ecosystem that will be able to navigate through anything thrown at it with confidence and vision, says Sushant.
Issues and Challenges Faced in Development Stages
Altigreen believes cost effectiveness of an electric vehicle plays a significant role in driving EV adoption. Over the years, key policies and subsidies of governments such as FAME, PLI, and state-level subsidies have acted as catalysts in promoting domestic EV manufacturing in the country for delivering affordable EVs. Similar efforts by commercial banks and structured NBFCs for financing electric three wheelers will ensure that EV deployment continues at the pace it has gained over the years. Additionally, manufacturers have to keep up with the pace at which advanced technologies such as AI, ML and data analytics are bringing a transformation across various segments. Be it manufacturing or integrating EVs with tech-enabled features, the EV makers are required to constantly innovate and pay attention to research and development to maintain a competitive edge. Also, e-mobility is a high-growth industry and is creating huge employment opportunities. Supporting talent with the right skilling, upskilling and reskilling demands attention to create a workforce which is resilient, competitive, and future-ready.
Kinetic Green elaborates about the issues and challenges faced by electric three-wheeler segment in the following categories,
Manufacturing concerns:There is a need for increased investment in R&D for EV technologies, battery life enhancement, interoperability, component manufacturing, certification procedures, safety standards, and standardization.
Financial challenges:E3W financing is divided into two categories: individual financing and financing of fleet or government E3Ws. Collaboration between original equipment manufacturers (OEMs) and financiers is crucial. Currently, financiers are uncertain about the investment potential due to a lack of performance track records.
Battery swapping:Consumers have range anxiety and low confidence in switching to EVs due to long charging times. Battery swapping has the potential to eliminate this issue, but it comes with its own challenges, such as the need to educate drivers on battery use and handling.
EV policies:The government has introduced several policies and plans to increase the pace of EV adoption, but there is a need for more comprehensive and coordinated efforts. States can also play a role by encouraging retrofit kit manufacturers and addressing battery recycling and reuse.
By addressing these challenges, India can accelerate the adoption of E3Ws and achieve its goal of becoming a leader in the global EV market. There is a need of awareness of the benefits of EVs and the incentives available to purchase them.
The electric Three-wheeler segment is on a promising trajectory, yet challenges persist. Foremost among them is the development of a robust charging infrastructure. Without a widespread network of accessible and efficient charging stations, the adoption of electric Three-wheelers remains constrained. Furthermore, the affordability and accessibility of charging points in rural and remote areas pose a considerable hurdle. Ensuring compatibility with diverse charging standards and addressing range anxiety are crucial aspects. We're committed to partnering with stakeholders to expedite the deployment of a comprehensive charging network, fostering a sustainable ecosystem for electric Three-wheelers, highlights Godawari Electric Motors.
Ecofy believes that despite various initiatives in place, a significant gap remains between ambitious EV targets and the practical challenges in creating a supportive ecosystem.
Key components of this ecosystem include charging infrastructure and accessible battery options.
Charging Infrastructure: In India, where reliable power supply can be an issue, having sufficient charging infrastructure is crucial. Many EV3W users lack dedicated parking spaces for charging setups.
Financing Options: Financing options for EVs are not as developed as those for traditional vehicles. ICE 3Ws enjoy financing from both informal and established players with decades of experience. While down payments and interest rates on loans are similar, fewer companies finance EVs due to a lack of product understanding and concerns about battery longevity (accounting for up to 40% of the vehicle's cost). The absence of a standardized second-hand market adds to the perception of risk, making it challenging for financiers to assess asset value in case of loan default.
However, we at Ecofy, India's first green-only NBFC provide a sustainability-focused EV financing product that goes beyond just purchasing an electric vehicle. Our holistic approach is centred around extending the vehicle's lifespan and ensuring the asset's second life through bundled offerings of warranties and buybacks all of which contributes to promoting sustainability.
AMO Mobility shares that the electric vehicle segment is grappling with a myriad of issues. Similar to other nascent industries, they have challenges that shape their trajectory. Foremost among these is the lack of charging network infrastructure. On top of this, there's the initial steep investment required for electric vehicles. It causes hesitation among potential buyers and ultimately ends up turning them away. This issue gets even worse due to a general lack of awareness about the benefits and feasibility of EVs in the long run. To truly make electric vehicles like electric three-wheelers, electric scooters, and electric bikes in India go mainstream, there needs to be more policies and incentives for EV Users and OEMs. Without ample incentives and policies, individuals will not want to invest in EVs or create places for others to charge them. These types of initiatives can help bridge gaps in knowledge and speed up adoption.
Feasibility of Next-Gen Technology in Commercial Vehicle Industry
Integration of cutting-edge technology for fleet management has become a new trend in the commercial vehicle segment.
Talking about the impact of integration in next-generation technology, Amitabh expresses, we are living in a technology-driven era and businesses are leveraging its benefits to achieve higher levels of efficiency, convenience, safety, control and cost-effectiveness in their operations. When it comes to managing their EV fleets, latest digital solutions, backed by AI, IoT technologies allow them to monitor EV performance, analyse key metrics such as energy consumption, battery health, temperature, along with real-time vehicle tracking. Nowadays, businesses are utilizing smart battery management systems to monitor battery health, its charge levels, temperature and others. The AI-driven battery management systems are able to convert battery data to actionable insights to detect issues and ensure predictive maintenance. Moreover, there are GPS-enabled vehicle trackers which make it possible for fleet managers to track vehicle location in real-time. Moreover, the drivers can monitor locations of vehicles, optimize routes for faster turnarounds. As technology continues to evolve, it will be possible to predict potential failures in vehicle components so they can be replaced in advance, thus achieving higher levels of uptime, resulting in financial and environmental gains.
Sulajja feels that the integration of cutting-edge technology for fleet management is a significant trend in the commercial vehicle segment, and it has the potential to significantly impact the commercial EV 3-wheeler ecosystem in India.
Improved efficiency and productivity: Fleet management software can assist fleet operators in optimizing route, schedule, and vehicle use. This can result in significant increases in efficiency and production, resulting in cheaper costs and increased profits.
Lower operating costs: Fleet management software may also assist fleet managers in lowering operating costs by tracking fuel use, maintenance costs, and other expenses. This can assist fleet operators in identifying cost-cutting opportunities and improving their bottom line.
Increased safety and security: By tracking vehicle location, speed, and other data, fleet management software may assist fleet managers improve the safety and security of their fleets. This can assist to decrease accidents and theft while also providing fleet operators and drivers with piece of mind.
Improved customer service: Fleet management software can assist fleet operators in improving customer service by giving real-time tracking information and predicted arrival times. This can aid in increasing client happiness and loyalty.
Also, the integration of cutting-edge technology in fleet management is feasible in India. However, there are some challenges that need to be addressed, including: Cost, Lack of awareness, Infrastructure constraints. Integration of cutting-edge technology including telematics and others can help to reduce the operating costs of EVs, improve their performance, and make them more attractive to commercial fleet operators. This will lead to increased adoption of EVs in India, which will help to reduce emissions and improve air quality.
Hyder agrees that the integration of cutting-edge technology for fleet management marks an exciting new phase in the commercial vehicle sector. This trend promises to revolutionize the commercial EV ecosystem, leading to enhanced operational efficiency, reduced costs, and improved sustainability. By leveraging advanced tech solutions like real-time tracking, predictive maintenance, and optimized route planning, businesses can significantly streamline their operations, leading to greater productivity and profitability. This transformation can also contribute to a cleaner and greener environment, aligning with India's ambitious sustainability goals. With India's growing focus on technological advancements and its expanding EV infrastructure, the implementation of these solutions appears both viable and promising. Through strategic partnerships and continued innovation, the Indian commercial EV segment can undoubtedly embrace this transformative shift, fostering a more efficient and sustainable future.
According to Sivaprasad, the increasing trend of online shopping in India is driving significant growth in last-mile delivery services. E-commerce is projected to surge by 78% globally by 2030, as per a report by the World Economic Forum. This surge will result in a more than 35% increase in the number of delivery vehicles in India's top 50 cities by 2030.
To meet the growing demand for last-mile deliveries, 3W cargo vehicles are becoming increasingly popular. Traditional ICE (Internal Combustion Engine) 3-wheelers are the primary choice for the Indian last-mile delivery system. This preference is due to the cost-effectiveness and the ability to navigate narrow streets, providing doorstep delivery, which is often challenging for larger trucks and mini-vans. E-commerce and delivery startups are also contributing to the rising demand for electric vehicles particularly in the 2W/3W segment.
Sushant points out that the combination of technology in fleet management is bringing about changes in the business world. This integration offers real-time insights into how our vehicles perform, enabling them to optimize routes, reduce costs, and increase efficiency. The impact is particularly significant in the EV realm as it leads to better allocation of resources, longer vehicle lifespan, and substantial financial savings. India with its advancements in technology and ongoing digital transformation, is perfectly positioned to embrace and benefit from this integration. Our country's tech sector is thriving with innovation and expertise. By directing this strength towards the EV industry, we are not only keeping up with trends but also establishing ourselves as leaders. This combination of technology and sustainable transportation positions India as a frontrunner in eco-commercial mobility. As we harness the potential of technology, we are shaping a future where efficiency and sustainability drive India's transportation narrative, on a scale.
Key Client Base & Expansion Plans
Summing up their contributions, Amitabh mentions Altigreen serves a diverse clientele, spanning industries such as pharmaceuticals, e-commerce, dairy, FMCG, and various last-mile distribution applications. Our core objective is to identify tailored use cases based on our clients' needs and deploy our vehicles where they are best suited. Currently, our contribution in the organized segment stands at approximately 35%, but due to our emphasis on application-based selling, our contribution in this area is notably higher, constituting about 65% of our overall sales. Looking ahead, we plan to maintain our dominance in application-based selling by exploring different use cases and aligning our services with our clients' specific requirements, ensuring our continued growth and ability to meet evolving market demands.
Sulajja highlights Kinetic Green has a large B2C presence through nationwide dealer network of 200 dealerships. We are also penetrating in the B2B segment by tying up with e-commerce delivery fleet operators and other companies for last mile deliveries.
We also have a significant presence in the B2G segment over the years, by working closely with various stakeholders to bring E3W as opportunities for better livelihood for unemployed youth, or for use for waste management in urban and rural areas. We have also deployed E3W for last mile connectivity at metro stations in Delhi, Lucknow and Kochi.
Godawari Electric Motors has already launched Eblu Rozee (L5M category), Eblu Feo e-scooter, Eblu Spin and Thrill e-bicycle range and Eblu Reino (e-3W cargo). On the network front, we have added 50 dealerships and have tied up with multiple finance institutions. We are aiming to have 100 dealerships by the end of this fiscal and continue working on making it easier for the customers to own EVs.
Ecofy is a one of its kind green-only NBFC. We partner with people and businesses who want to reduce their carbon footprint and restore balance to the planet. Our focus spans both B2C and B2B markets, with a significant emphasis on B2C outreach. We aim to increase the market share of EV 3W vehicles and establish partnerships with leading OEMs. While we have initially launched in select locations, our upcoming plans include nationwide operations, ensuring accessibility even in remote areas, concludes Sivaprasad.
AMO Mobility is committed to promoting transportation options and serving a diverse range of customers, including those in semi-urban areas, e-commerce companies, efficient delivery services, and public transportation organizations. As this industry experiences growth, we are dedicated to keeping up with the momentum.
We not only strive to expand our product lineup but also aim to reach more regions across the country. We want to play a role in revolutionizing India's EV market. By doing so, we intend to ensure that a vast majority of people in India have access to transportation that's both sustainable and highly efficient. At AMO Mobility, we firmly believe in driving change by introducing proficient electric vehicles one step at a time, ultimately leading our nation towards a more sustainable future.