Pickering Interfaces will be showcasing its Battery Management System (BMS) test demo on booth PD76 at productronica India.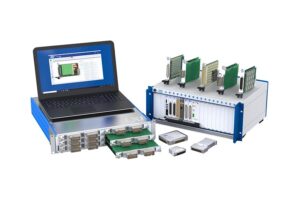 The event will be taking place at Bangalore International Exhibition Centre (BIEC), Bengaluru from 13-15 September 2023.
productronica India is South Asia's leading trade fair for electronics development and production. Founded in 2000, it alternates annually between the two Indian economic hubs, Delhi and Bengaluru.
Running alongside electronica India, the trade fair for electronic components, systems, and applications, it covers the entire value-added chain – from design to manufacturing – for the electronics industry. In 2022, 343 exhibitors from 19 countries welcomed more than 20,000 visitors from 35 countries over 25,000m² of exhibition floor space.
Outlining the BMS test demo, Paul Bovingdon, Simulation Product Manager at Pickering explains: "With increasing adoption of electric vehicles (EVs), one significant challenge to be tackled is the effective testing and validation of Battery Management Systems (BMS). Using modular, PXI-based switch and simulation modules offers many advantages in BMS test, including flexibility to optimize the test system to meet exact requirements; simple modification to address evolving needs; and an open, industry-standard architecture that promotes system longevity and mitigates obsolescence while providing seamless integration of multi-vendor instrumentation modules."
The BMS test demo includes the following Pickering products:
41-752A-011 PXI Battery Simulator – simulates batteries in a stacked architecture
40-190B-002 PXI Fault Insertion – simulates cell shorts and broken wires
40-297A-050 PXI Precision Resistor – simulates battery load
42-297A-150 PXIe Programmable Resistor – tests BMS isolation resistance check
41-743-001 PXI Programmable Power Supply – simulates battery charger
43-920-001 PXI Embedded Controller
42-925-001 PXIe 18-slot Chassis
In addition to its BMS test demo, Pickering and its local agent, Vigven will also highlight the following products on booth PD76 at productronica India 2023:
PXI & LXI high voltage switching solutions.
PXI fault insertion, programmable resistor, and thermocouple simulation modules.
LXI/USB modular chassis.
eBIRST Switching System Test Tools – designed to simplify system fault-finding by quickly testing the system and graphically identifying the faulty relay.
Advanced reed relay technology from relay division, Pickering Electronics.