Petromin Corporation KSA has been planning to collaborate with Hindustan Petroleum Corporation Limited (HPCL) in a $700 million investment spanning three key areas: fuel stations, multi-brand vehicle service workshops, and EV charging stations.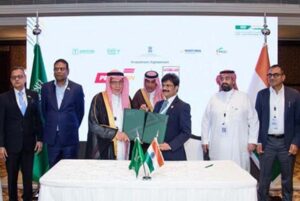 Over the next five years, these investments will be made to strengthen their presence in India and the Middle East.
Petromin Express India, a subsidiary of Petromin Corporation, KSA, will join forces with HPCL to invest approximately $100 million in establishing around 1,000 vehicle service centers at HPCL retail outlets in India.
Additionally, the partnership aims to allocate around $100 million to set up and operate up to 5,000 electric vehicle charging units at HPCL-operated stations across India.
These EV charging stations will offer high-speed DC chargers as well as AC chargers.
The announcement of this strategic partnership was made during the India Invest Forum held in New Delhi as part of the G20 Summit, in collaboration with Saudi Arabia's Ministry of Investment.
Kalyana Sivagnanam, Group CEO of Petromin Corporation, emphasized that this partnership will create job opportunities, attract further investments, and facilitate technology transfer between Saudi Arabia and India.