Olectra Greentech Limited has announced the awarding of a contract for the construction of a "Greenfield EV Manufacturing Facility" in Seetharampur, Hyderabad, Telangana.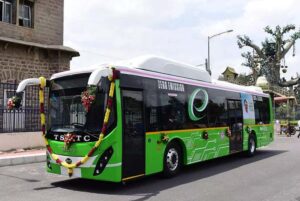 The company has selected Megha Engineering & Infrastructures Limited (MEIL) as the entity to carry out the construction project.
Notably, MEIL is the ultimate holding company and a related party to Olectra Greentech Limited.
The construction of the Greenfield EV Manufacturing Facility will take place on a sprawling 150-acre land and is aimed at boosting the domestic production of electric vehicles. The facility will play a pivotal role in meeting the growing demand for eco-friendly transportation solutions in India.
The terms and conditions of the contract stipulate that the construction must be completed within 12 months from the date of shareholders' approval. The contract's approximate value stands at Rs 395.12 crores, inclusive of GST.
As the construction commences, Olectra Greentech Limited remains committed to playing a pivotal role in India's electric mobility journey and contributing to a greener and more sustainable future for the nation.