Oben Electric has launched its first company-owned experience center in HSR layout, Bengaluru for customers.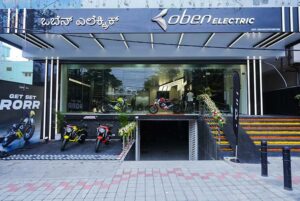 Located in the vibrant & lively HSR Layout of Bengaluru, Karnataka, the Oben Electric Experience Centre features a spacious 3000 sq. ft. area dedicated to showcasing Oben's flagship electric motorcycle "Oben Rorr", making it one of India's largest electric 2-wheeler experience centers.
The inauguration of the experience center took place on Thursday, 31st August 2023, and the doors were opened to customers shortly after the inauguration.
With a smart blend of futuristic design, next gen customer interaction technologies, Oben Electric aims to revolutionize how customers experience electric vehicles.
The experience center goes a step ahead from the conventional showroom and seamlessly combines aesthetics and technology to deliver a premium & engaging customer journey.
The Oben experience center has four main zones, Moto Live, Moto X, Moto Rack & Moto Zen.
Moto Live is the heart of the experience center, which has been thoughtfully designed to provide a vibrant atmosphere for the customer to engage with the live product for the first time and learn about the key details and specifications of the product at the same time.
Continuing the customer journey, Moto X provides an opportunity for the customer to explore and have a close-up view of the key components, both physically and virtually, allowing enthusiasts to uncover the intricate and distinctive features that make Oben Rorr, one of the best electric performance motorcycles in the market today.
The exploration is enabled via advanced technologies such as interactive & wireless displays and augmented reality providing an immersive, informative, and unforgettable experience.
Moto Zen is the first of its kind dedicated customer lounge in a 2-wheeler showroom, which offers a cozy café vibe with a moment of relaxation for the customers & encourages engaging conversations between customer community or with the brand, sharing their stories, experiences or thoughts on Oben Rorr & electric mobility.
Last but not least is the moto rack, which showcases an exclusive range of accessories & merchandise that perfectly complements the Oben Rorr.