Luxury carmaker, Mercedes-Benz has recently exhibited its futuristic EV concept called the Vision EQXX in India.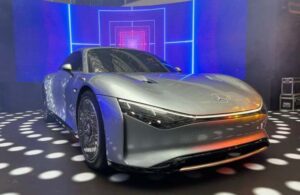 The EV concept was unveiled during the third edition of the Mercedes road safety campaign.
The Mercedes Vision EQXX made its debut at CES 2022 in Las Vegas. It is a sleek four-door EV that is said to be the most aerodynamic car in the world, with a drag coefficient of 0.17.
Inside, the EQXX features a massive 47.5-inch 8K display that integrates the digital instrument cluster and infotainment system into a single panel.
The EQXX is based on Mercedes' modular EV architecture.
It uses a 100-kWh high-density battery pack that is said to offer an estimated range of over 1,000 km.
The car uses solar cells integrated into its roof to power its auxiliary units. They can also offer up to 25 km of additional range if needed.