Movin Express has revealed its plans to tap into the growing automotive logistics market in India with a fleet of electric vehicles.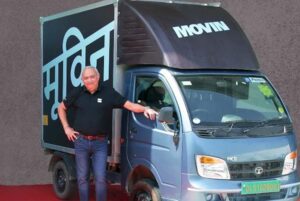 The company has already launched a pilot program using electric vehicles for last-mile delivery in Delhi, NCR, which has been successful so far. The B2B logistics firm plans to add 25 more electric vehicles to the fleet in the near future, and expand the program to other cities.
JB Singh, Director, Movin Express, commented that his company has expanded its operations to 49 cities, including ones near automotive clusters such as Pune and Chennai, within a year of starting its operations, which began in May 2022.
Without divulging the names of the clients, Singh added that they include large domestic and international OEMs and their ancillary suppliers. Singh further stated that Movin would like to continue operating in its niche of express logistics in the B2B (business-to-business segment), and not spread thin into other segments.
He further added that just like its parent company Interglobe, which operates in one segment of a low-cost carrier, Movin too, would like to operate in its niche of express logistics in the business-to-business (B2B) segment and would not like to spread out thin into other segments
Within the last 8–9 months of its operations, the company has opened up eight big ground hubs across the country in addition to its existing air hubs. By the end of the year, the company hopes to add another three ground hubs, with one of them located in Central India, a kind of nucleus for all its operations, Singh noted.
The automotive industry is a major driver of the global logistics market and the Indian logistics industry, which currently stands at about US$ 15 billion and is expected to grow at a CAGR of 10–12% in the coming years. A surge in e-commerce, infrastructure development, and the increasing importance of supply chain management, is slated to bolster the growth of the Indian logistics industry.
While the logistics industry has been a bright spot of growth in India in recent years, the high costs, which come to around 13–14% of the national GDP, have been a damper.
In comparison, some of the mature markets in the US and Europe have much lower logistic costs at around 8% of GDP, which India now hopes to achieve in the coming years.