Micro Mobility Systems has announced a new smaller version of electric vehicle named Microlino that has garnered a lot of hype in the EV market these days.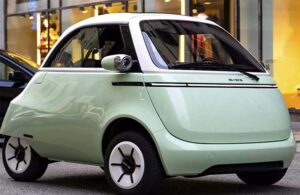 Just like it name, this small EV has a very cute and small appearance and is reportedly smaller than a Tata Nano car.
 Microlino is claimed to cover 230km range on a single charge.
Though it looks like a small car, the company says that it is not a car, it is a four-wheel electric vehicle.
According to reports, the car has already received 30,000 reservations even before it officially debuts on the market.
Microlino is a Swiss design electric vehicle. It looks like a car but it is placed between the car and the motorbike, says the company.
The vehicle has a much smaller build than a car but is covered from all sides just like a car. Along with this, space has also been given for storage. The EV can reportedly accommodate two people and has 230 liters of trunk space.
It weighs only 535 kg and has a range of up to 230 kms.
One of the most interesting things about this vehicle is that it can reach a speed of up to 90km/h and its base model has a range of up to 115 km.
As per the company, the vehicle can be driven around in the city for about a week on a single charge.
Microlino is a Class L7e vehicle from Europe which means that it is technically a four-wheeled bicycle but designed like a compact car. It has a unibody chassis, a small battery and a nominal carbon footprint. 90% of its components are made in Europe.
The vehicle has already got 30 thousand reservations. It is expected to be made available initially in Switzerland for $ 15,340 (around Rs 12 lakh). In Europe, it is listed for $ 13,400 (around Rs 10.5 lakh). The deliveries to Swiss customers will start in the summer, while other parts of Europe will start after that.
Micro Mobility Systems is manufacturing the Microlino at its facility in Turin, Italy.
The plant can increase its production capacity from 1500 vehicles per year to 10,000 vehicles per year.