Mercedes-Benz has announced to support customers with 50% road tax on EVs in states that levy road tax on EVs to drive EV sales.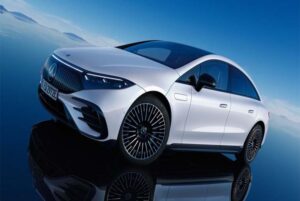 Santosh Iyer, managing director & CEO, Mercedes-Benz India mentioned that while most states do not levy road tax on EVs, few like Assam, Jharkhand, Haryana, Telangana, Gujarat, Kerala and Madhya Pradesh levy at varying rates.
"Customers from these states who buy any of our three EVs – the EQB, EQS and EQE SUV – will be supported with 50% road tax," he said. "This support is only for vehicles bought in October, which we are celebrating as the sustainability month. We are also supporting customers from across India who are keen to flip the switch from their ICE vehicles to EVs, by offering them a sustainability loyalty bonus."
Recently, the carmaker reported 11% growth in overall sales during January-September 2023. "We delivered 12,768 cars during this period, up from 11,469 units sold in the same period last year," Iyer said. "This gives us confidence that we should be able to beat our previous best of 15,822 units we sold in CY22."
He, however, added that supply chain is still creating challenges, and this time it's not about semiconductors. "The semiconductor shortage is behind us, but a car is made up of 2,500-3,000 parts, and even if one part is missing, we cannot make a car. The global supply chain is in a very complex state right now," he said, without getting into details such as the shipping container shortage, Russia-Ukraine war or the Israel-Hamas conflict. "Supply chain bottlenecks are constraining availability of key SUVs like the GLA, GLC and GLS."
Mercedes-Benz is sitting on an order bank of more than 3,000 cars.
But a large number of Indians are buying its most expensive cars. Called top-end luxury vehicles (TEVs), these now form 25% of its sales. "There was high demand for our TEVs – cars priced Rs 1.5 crore and above, comprising the S-Class, Mercedes-Maybach, AMGs and EQS – in January-September 2023, and this segment grew 22%, contributing to 25% of our year-to-date sales," Iyer said.