Marti Technologies has rung the opening bell at the New York Stock Exchange (NYSE), officially celebrating the successful closure of its business combination and the start of its journey as a public company.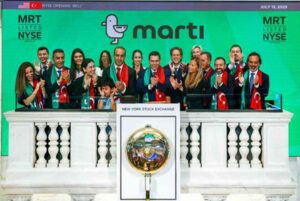 The company began trading on July 11.
Alper Oktem, Founder and CEO of Marti, was joined by other executives in New York and team members virtually in Türkiye.
"Today feels surreal to me," said Alper Oktem, Founder and CEO of Marti. "I am honored to join this great tradition to ring the NYSE opening bell, and I hope there will be many more Turkish entrepreneurs to come. We are excited to begin this next stage of our journey."
Founded in 2018, Marti is Türkiye's leading mobility super app, offering multiple transportation services to its riders.
Marti provides a ride-hailing service and operates a large fleet of shared electric two-wheel vehicles.
All of Marti's offerings are serviced by proprietary software systems and IoT infrastructure.