Indian automotive conglomerate Mahindra has recently signed a new term agreement with automaker giant Volkswagen Group that goes beyond merely sharing electric components from VW's MEB toolkit in the XUV and BE branded SUVs.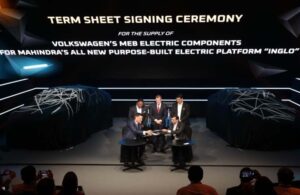 The two companies will consider future collaborations, such as developing charging and energy solutions and locally manufacturing batteries.
At the unveiling of the Mahindra Born Electric range, the two carmakers signed a Term Sheet that covers all the major aspects of the prior agreement to share components. Interestingly, it also presents a path to localizing battery manufacturing in India.
Previously, Volkswagen had agreed to supply tech from its global MEB electric vehicle toolkits such as drivetrain components, battery systems and battery cells. The final agreement will be signed by the end of this year.
In the next step, Mahindra and Volkswagen will explore collaborative development in the larger field of EVs. This includes new electric vehicle projects, EV charging and energy storage solutions and other efforts to strengthen the EV ecosystem.
Rajesh Jejurikar, the Executive Director of Auto and Farm Sectors at Mahindra, said, "Our vision is to lead the electric mobility revolution in India by bringing authentic electric SUVs with cutting-edge technology, as showcased in the UK today. We are very pleased to explore further areas of potential collaboration with Volkswagen and are confident that together, we will be able to shape an exciting electric future."
The Mahindra XUV and Born Electric SUVs will use all-wheel drive and rear-drive powertrains from Volkswagen.
Globally, the German carmaker offers two-wheel drivetrains with outputs ranging from 230-285PS and all-wheel drive (AWD) powertrains with up to 395PS outputs.
According to Mahindra, the quickest SUVs will be capable of doing the 0-100kmph sprint in just 5 to 6 seconds!
In addition, Volkswagen will supply batteries of 60-80kWh capacities, with the 80kWh pack rated for up to 450km of WLTP range.