Komaki has been planning to establish 45,000 EV charging network points across India by the end of 2023.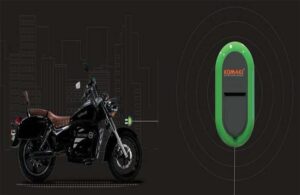 The EV division of KLB Komaki, an emerging E2W maker, has allocated a budget of INR 25 crore for the project, which is slated to begin in July 2022.
"For EV users, charging will no more be a troublesome process as Komaki has simplified all things through a 3-step easy process – scan, pay, charge. Now, they will be able to track their EV's power consumption through Energy Meter, a unique feature embedded in every charging panel. Also, they will be able to track the nearest charging point using Komaki mobile app," said, Ankita Sharma, Head of Sales and Marketing, Komaki Electric Division.
"For service providers, it is an earning opportunity too, as the EV market is growing in India at a staggering pace. By making their charger public, they can earn as per booking," she added. Komaki claims that this charging network concept is already in the testing phase, and aims to expand this model.
The company claims that this will be the largest high-end, peer-to-peer (P2P) EV charging network in the country, equipped with smart and user-friendly features to cater to the needs of EV owners.
Komaki will be offering two EV charging point options to its consumers for free on the purchase of any electric vehicle.
The bigger one is a multi-purpose charge point for bikes, cars, and three-wheelers, while the smaller point is only for electric 2-3 wheelers.
The company adds that the users can then install the charging point anywhere they desire, for instance, outside their apartment, nearby commercial buildings or at a petrol pump.
The ports can be used to charge any electric vehicle and the buyer who has installed the port can make a small margin of profit out of it.