Known as the primary source of public transportation for short-distance commutes in the majority of developing countries, Buses have emerged as one of the most affordable means of travel and an enabler of economic activity.
Concerned with the rising pollution levels in many parts of the country, a complete switch towards cleaner mobility has emerged as the most feasible solution for India.
Since the ratio of cars per thousand individuals is far less in India as compared to developed countries like the USA, UK and Australia, the majority of the Indian population still depends heavily on public transport.
Keeping these points at the forefront, India has to focus on the mass-scale electrification of public transport, in which Electric Buses in India will play a crucial role.
And though we have witnessed great enthusiasm from Indian consumers in private-based electric two-wheeler, three-wheeler as well as four-wheeler vehicles, the market of commercial heavy passenger vehicles is not showing much growth.
Sales of Electric Buses in India are still in the minority as the existing commercial vehicle players have either just entered or are in the process of entering the EV space.
According to a NITI Aayog study conducted in 2018, it was estimated that India has only 1.3 buses for every 1,000 people, which is much lower than other developing countries like Brazil and South Africa.
In another shocking report published in the year 2020, the study claims that around 5,15,600 EVs were sold in India, out of which only 600 Electric Buses in India were sold.
Electric Buses in India-Government's Initiatives 
Under the active push of the government to electrify public transportation in India, a few incentives and exemptions were given out to some of the new Electric Buses players who aimed to venture into the commercial fleet space.
Listing out few of the key initiatives undertaken by the government to spur the growth of Electric Buses in India are:
With an expenditure amount of INR 18,100 crores, National Programme on ACC has aimed to incentivize the building of manufacturing facilities for 50 GWh of ACC and 5 GWh of niche ACC technologies.
On the other hand, FAME II, having an expenditure amount of INR 10,000 crores, is a government scheme that offers upfront subsidies and supports in creating EV charging infrastructure. Under this scheme, the government will support 7,090 Electric Buses in India with an incentive of up to INR 50 lakhs each.
PLI scheme for automobiles and auto components has been aimed to incentivize the manufacturing of high-technology automobiles and their automotive components in India.
Recent Trends in Electric Buses Industry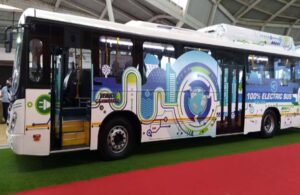 Starting the year 2022 with new targets, CESL-Convergence Energy Services Ltd. has recently awarded a contract for 5,450 Electric Buses in India on behalf of five state governments and has been planning to launch a tender of $10-billion (Rs.80,000 Cr.) for 50,000 electric buses, approved by NITI Ayog to encourage the E-Bus Manufacturers.
In another initiative, Delhi Government has set a target to add 8,000 Electrical Buses to Public Transport through DTC (Delhi Transport Corporation).
Newly added 97 E-Buses in Delhi were delivered by TATA Motors as the Delhi government aims to achieve 80% Electrification of the DTC Fleet by 2025.
Similarly in Mumbai, Brihanmumbai Electric Supply and Transport (BEST) initiative aims to add two new electric buses to its fleet, which also includes India's first air-conditioned double-decker bus.
Since the dawn of Electric vehicles boomed aggressively in Southern states of India, Hyderabad became the first city in India to run electric buses that have been sourced under the FAME scheme in 2019. Following this Telangana State Road Transport Corporation (TSRTC) also launched its first fleet of 40 Electric Buses in India.
Roadblocks in Electric Buses Market
Stating some of the most common challenges any electric bus manufacturer come across include,
Dependency on Imports
Though the manufacturers develop the chassis and bus bodies of the Electric Buses in India locally, the e-bus industry still requires a major part of the vehicle from international sources and hence the dependence on imports from select players is still a major issue.
Lack of Infrastructure & High Investment Costs
Since India is targeting to switch towards e-buses, major infrastructure issues like building charging stations are still a priority, for which huge capital investment is required. Though a large part of projects going across India is focusing on setting up a target requirement of 4,00,000 charging stations for 2 million EVs by 2026, the pace is still quite slow.
Uncertainty of Battery Lifecycle 
Batteries play a crucial role in developing any electric-based vehicle and so its lifecycle determines the lifecycle of the vehicle as well sometimes.
And despite extensive research going on to extend the lifecycle of EV batteries, the solution is still far ahead. Apart from battery life, their safe disposal also raises multiple environmental concerns which in result halts the sales growth of Electric Buses in India.