Unveiling the leadership and juggernaut of Infineon in the Electric Vehicles(EVs) sector, we draw down to unleash the true potential of Battery Management Systems(BMS). In this biggest interview of the month, Niloy has an exclusive chat with three veterans from Infineon defining Infineon's comprehensive system solution for the 48V Battery Management System (BMS), the importance of sensing and balancing ICs in a BMS and the key technical challenge the BMS market is facing currently, much more interesting insights in this below-edited excerpts.
Talking about BMS, which applications are of Infineon's pivotal focus and innovations the company is undergoing and delivering in these respective applications?
The world urgently needs new and smart forms of mobility, and semiconductors are essential to realizing the automotive megatrends. The transportation sector accounts for over 28% of the world's carbon emissions. Infineon is passionate about decarbonizing and digitalizing the world by accelerating the electrification of transportation fleets. Our products today are tailored to a wide variety of vehicles such as cars, two/three-wheelers and commercial vehicles.
Batteries are the most expensive component in an electric vehicle, making up to 45% of the EVs cost.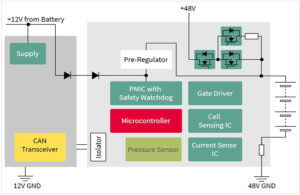 Infineon is focused on developing full BMS solutions that optimize the performance of the batteries, maximize their safety and extend their life. Thus helping EV makers and users to get the most out of their battery.
Can you highlight Infineon's comprehensive system solution for the 48V Battery Management System (BMS)?
The main functions of the Battery Management System (BMS) are computation, data storage communication, and monitoring (SOC/ SOD, SOH, SOP, SOS, Temperature, coolant flow, Voltage, and current), and protection. For safety reasons, a Battery Disconnect Switch (BDS) is integrated into the BMS.
Infineon offers a complete and comprehensive system solution with high integration for space-saving ranging from supply ICs, microcontrollers, monitoring IC, balancing IC, communication ICs, memories, pressure sensors, gate drivers, and power MOSFET, and transceivers. According to safety requirements, the key components– microcontroller, Battery monitoring and Balancing ICs, and Supply ICs are ISO26262 ASIL-D compliant. In the below block diagram we have explained our offering on 48V BMS
The importance of sensing and balancing ICs in a BMS and how these ICs help in optimizing, and understanding the state of charge and health etc in a battery. Which key applications can benefit from these solutions?
When designing a BMS, the designer often starts with the cell monitoring and balancing (CMB) device. The CMB device is also known as the BMS IC or Analog Front End (AFE). Often located on a Cell Management Controller (CMC) unit, the CMB's function is to measure the voltages and temperatures for cells and communicate this information to the main controller. Additionally, the CMB can undertake diagnostics of cells and their surrounding (for example, detecting connection failures in the circuit surrounding a cell such as open or short circuits). The values monitored by the CMB are then used to:
• Check if the cells are always operating within their safe operating area (SOA) and report if they reach their SOA limits
• Measure the voltages of the cells for the state of charge (SoC)
• Report the cell temperatures for the thermal management of the pack
The CMB device is also responsible for balancing the cells. Cell imbalance comes from the fact that high voltage batteries are built out of many single cells in series, which inevitably have production variances, for example in cell characteristics or the heterogeneous thermal spreads in the final pack.
Additionally, to achieve extreme low-power dedicated housekeeping functions such as periodically scheduled cell measurements and state analysis required for functional safety can be performed by the CMB independently from the master controller of the BMS. Safety features for signaling over-/under-voltage, thermal stress, etc. including emergency alarms are triggered autonomously.
BMS ensures that the capacity of a battery is optimally utilized, i.e. that the longest possible range is achieved in an electric car, and that the battery does not age prematurely. In addition, they determine the battery's state of charge and state of health in order to estimate the available range and remaining service life. The TLE9012DQU provides the necessary measurement data and ensures a balanced state of charge through cell balancing. Among other things, this prevents the weakest cell from determining the total usable capacity of the battery. To minimize the influence of interfering signals on the measurement results, the new sensing and balancing IC from Infineon features a programmable noise filter. In addition, it performs the measurement in all cells simultaneously so that the results remain comparable even in the presence of temporary interference factors. A compensation algorithm with an integrated stress sensor and extended temperature compensation ensures the long-term stability of the measurements. Cell balancing is achieved via twelve balancing switches integrated on the chip – one per channel. They are designed for currents up to 200 mA. For higher balancing currents, the device also supports external switches. In addition, the cell balancing can be programmed to stop without a signal from the microcontroller after a defined time of up to 32 hours or when the cell has reached a defined voltage. This allows the microcontroller to switch to sleep mode and thus save energy.
With its twelve channels, the TLE9012DQU is particularly suitable for batteries that are partitioned with twelve cells per module. One device is then required per module. The iso-UART interface for data exchange between these modules and with the microcontroller allows easy voltage isolation and ensures data integrity. The communication supports more than 20 serially connected devices and ring topology. This ensures that even if a single device fails, the communication chain is not broken and the rest of the system remains functional.
Bidirectional switches are widely used in Battery Management Systems (BMS) to charge/discharge and protect against various failures like inrush current, overcurrent, short-circuit, reverse voltage, or overvoltage and undervoltage. How designers can develop an appropriate bidirectional protection power switch (BDPS) circuit such that the MOSFETs are operating within their safe operating area (SOA).
As battery packs are susceptible to certain risks such as under/overvoltage, deep discharge, mechanical stress, over-heating, unstable chemical stage, and thermal runaway, a BMS is critical in detecting these events quickly and mitigating the potentially hazardous situation, if not, alerting the driver or passengers in time. So, BMS is a safety-critical application. The educated customers demand automotive quality and safety (ASIL-C/D) compliance. In the event of a hazardous situation, a bidirectional protection power switch (BDPS) disconnects the battery pack from other loads in the vehicle. Sensing of this hazardous event and disconnection of the battery or isolation shall happen in few microseconds. Typically, in 48V BMS systems, customers prefer Infineon's AECQ+ qualified MOSFETs in the BDPS application. The main advantages are the robust automotive quality and fast switching times. Our designers and application engineers have developed complete reference design solutions to help customers design in BDPS. These reference solutions and premium technical support help customers address the below technical challenges.
› Lower power dissipation
› Better thermal interface
› Avalanche-free operation
› Identical current sharing between parallel MOSFETs
› Proper and safe turn on/off operation
Your comments on the key technical challenge the growing BMS market is facing currently?
The battery pack is the ultimate source of energy for any electric vehicle (EV). An electric 2/3 wheeler is powered by 48V to 72V lithium-ion battery packs today. The energy density and durability of the battery pack as well as the efficient utilization of this battery energy decide the performance, and range of the vehicle. Hence, it's essential to monitor the vital parameters of the battery pack all the time. These parameters typically include Voltage, Temperature, State of Health (SOH), State of Charge (SOC), State of Power (SOP), etc. A reliable BMS is responsible for the efficiency, longevity, and safety of Lithium-ion batteries.
Based on our evaluation and studies we see the following technical challenges in growth of the BMS market today:
1. Fast and synchronous analog measurements with guaranteed lifetime accuracies
2. Exhaustive diagnostics to alert on various critical situations
3. Fast isolation or disconnection of the battery pack from other loads or charging system
Infineon Technologies lately introduced a new family of battery management ICs, including TLE9012DQU and TLE9015DQU. Kindly explain the specs, features, benefits and applications of these new rollouts?
Infineon's BMS family is designed for automotive quality, highest safety (ASIL-C/D), and engineered for systems that consist of 4 to 200 cells in series comprehending voltages between 12V and 800V. A single BMS SoC/AFE (TLE9012) can monitor up to 12 batteries/cells with 12 dedicated 16-bit SDADCs thereby supporting very fast and fully synchronous measurements. An additional 13th 16-bit SDADC is targeted for Pack Voltage and temperature measurements. The in-built Stress Sensor compensates for all stresses and guarantees the End of Life (EOL) accuracy for voltage measurements. Safety mechanisms consist of Analog Comparators for redundant OV/UV check, Open wire detection, Leakage detection and comprehensive diagnostic features. The BMS SoCs/AFEs (TLE9012s) communicate over iso-UART, a robust and patented communication interface. The iso-UART transceiver (TLE9015) interfaces the AFEs in a daisy chain to the Host Microcontroller in a typical high voltage BMS. TLE9015 supports the ring topology with its dual iso-UART channels and complete isolation between the high voltage and low voltage system, ensuring a costoptimized robust system solution. In low voltage BMS, TLE9012 can directly communicate with the Host Microcontroller over UART without the need for TLE9015. Infineon provides a complete system solution for BMS. Customers can minimize their time-to-market by leveraging the scalable and ASIL-C/D ready reference design. This design is for monitoring and balancing of 4-24 cells, which is suitable for 48-72V BMS application. A solid-state switch is used for battery disconnect which gives faster turn off & robustness compared to contractors and relays. In addition, CAN/BLE/NFC connectivity, Memories for data logging, Pressure sensor for thermal runaway, and PMIC as a safety supply add the value, differentiation and flexibility to the two-wheeler BMS system.
Summary of Features for TLE9012DQU
• Voltage monitoring of up to 12 battery cells connected in series
• Hot plugging support
• Dedicated 16-bit delta-sigma ADC for each cell with the selectable measurement mode
• High-accuracy measurement for SoC and SoH calculation
• Integrated stress sensor with digital compensation algorithm and temperature-compensated measurements
• Secondary ADC with same averaging filter characteristics as advanced End to- End safety mechanism
• Five temperature measurement channels for external NTCs
• Internal temperature sensors
• Integrated balancing switch allows up to 200 mA balancing current
• Differential robust serial 2 Mbit/s communication interface
• Additional four GPIO pins to e.g. connect an external EEPROM
• Internal round-robin cycle routine triggers the majority of diagnostics mechanisms
• Automatic balancing over- and undercurrent detection scheme
• Automatic open load and open-wire detection scheme
• Automatic NTC measurement unit monitoring scheme
End-to-end CRC secured iso UART/UART communication
• Emergency mode for communication
• ISO 26262 Safety Element out of Context for safety requirements up to ASIL D
• Green Product (RoHS compliant)
Benefits
• Best-in-class Application Robustness: Infineon technology and device architecture guarantee the best performances under noise
• High accuracy voltage measurement: Reliable and precise battery cell monitoring for highly accurate SoC and SoH
• Lowest system cost: Small package (TQFP-48) & high feature integration for a lean external BOM
Summary of Features for TLE9015DQU
• Compatibility for ring mode topology
• Two UART ports for serial communication to host microcontroller
• Two iso UART interfaces for communication to other BMS ICs
• 2 Mbit/s data rate for fast communication
• Fully transparent communication scheme from UART to iso UART
• Integrated internal logic for minimizing pin count on the UART side
• Differential current edge-triggered iso UART communication interface
• High robustness against external noise
• Two external fault inputs (EMM and ERRQ_ext)
• Latching error output pin for triggering external microcontroller
• Internal supply monitoring
• Green Product (RoHS compliant)
Benefits
• Robust communication without the need for transformers or common-mode chokes
• Primary-on-Top or Primary-on-bottom selectable without tedious configuration
• Bi-directional communication scheme using error management logic
• Ring mode topology for further system availability at a low cost
Lastly, how do you foresee the BMS in India, challenges and scopes do you foresee in the market?
The Indian Government's move toward clean mobility and plans for converting 30% of total volume into EVs by 2030 will provide a huge market. Every EV whether it is 2W, 3W, PV or CV will need at least one BMS. The opportunities and market will be limitless for the right optimized solution.
Recently, we have been hearing new about 2W EVs catching fire. There could be multiple reasons ranging from the unsuitability of Li-Ion batteries being imported to the lack of sensing and protection mechanisms being deployed in the battery packs and BMS systems. Challenges such as these also open opportunities for a technology company like Infineon to promote our automotive qualified (AECQ+) and safety-focused components for BMS. Our complete reference designs and solutions address the pain points of the customers and help them design and deploy their products quickly into the market. In addition, our qualified application engineering resources are always available to support customers through the development lifecycle of their products.

(Source-www-bisinfotech.com/)