India's EV Sales in July 2023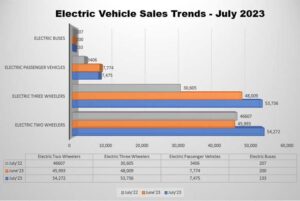 Need for sustainable clean energy resources has been the talk of the town in energy segment throughout this decade. Introduction of Electric Vehicles gave impetus to this cause that led to snowballing sales of these vehicles in the last few years.
Starting the new month of July 2023 with fresh sales data, the electric two-wheelers market of India is still recovering from the aftershocks of scrapping FAME-II subsidy scheme which got reflected in the monthly sales data for July 2023.
Overall market scenario of India's Electric Vehicle (EV) Sales in July 2023 showed sales data of 1,15,836 units registered, which is typically 45% of India EV record sales in CY2022.
On the other hand, India's EV Sales in July 2023 has shown an increase of ~14% units as compared to the May EV Sales recorded at 1,58,097 units.
The overall EV Sales in July 2023 witnessed a MoM increase of around 14% to reach 1,15,836 units, while on a YoY basis, India's EV Sales in June 2023 increased by 45% as compared to EV sales in June 2022.
Following this trend, India's EV Sales in July 2023 have now become the tenth consecutive month that EV sales have crossed the 100,000 mark.
Recovering from subsidy scrappage in FAME-II subsidies for electric two-wheelers, India's EV Sales in July 2023 are still recovering.
Out of 1,15,836 EVs sold in July 2023, electric two-wheelers sales increased from 45,734 units in June to 54,272 units, followed by three-wheelers accounting for 53,736 units.
On the other hand, electric passenger vehicles, which have witnessed a growing demand amidst the personal usage consumer transition to e-mobility, India's EV Sales in June 2023 accounted for 7,916 units.
In the end, electric buses witnessed EV Sales of 135 units which is a considerable decrease from its previous month's sales of 200 units in June 2023.
Considering the sales figures of each sub-segment according to their monthly EV sales performance, let's take a look at some of the notable sales figures of each domain along with the company-wise retails.
Electric Two-Wheelers Segment Sales – July 2023
This booming segment took a nose dive in retail sales in June 2023 due to the government's decision announced on May 22 to revise the subsidy on the FAME India Scheme to Rs 10,000 per kilowatt per hour (kWh) as against Rs 15,000/ kWH.
Despite this 37.5% cut that directly affected electric vehicle prices, leading to a sales decline in the two-wheelers segment with 45 829 units sales for June 2023 took a breather in India's EV Sales in July 2023 with 54,272 units sold.
Compared to the sales record of the previous year, electric two-wheeler showed a 18% improvement from June 2023 and 16% YoY (July 2022: 46,607 units).
Comparing the 148 OEMs in the fray, most of the leading players have logged growth in July, bettering their June retails. Among the top seven OEMs, each having sold over 1,000 units last month, account for 46,133 units or an overwhelming 85% of total sales in July 2023.
Retaining its leadership position, Ola Electric fared considerably well with a fair margin of 19,256 units sold with 9% growth rate over its June 2023's 17,625 units.
Ola maintains a massive lead over its rivals in the ongoing fiscal year
TVS Motor Co jumped to second rank with sales of 10,338 units of iQube e-scooters last month, with a cumulative seven-month sales as 87,397 units, giving TVS an 18% market share.
This was followed by Ather Energy with 6,614 units, 44% increase from June's sales data.
Bajaj Auto recorded 4,090 units, up 36% on June's 3,002 units and 28,843 units YTD.
Of the top 25 EV makers, 18 have registered month-on-month gains while seven have seen a decline.
While Okinawa Autotech, ranked fifth, its sales witnessed a decline by 13% to 2,263 units, Greaves Electric Mobility recorded 2,158 units sales, better than its June sales by 50 percent.
However, Ampere Vehicles, with 1,414 units, witnesses a 12% MoM decline.
Meanwhile, Hero MotoCorp, with 988 Vidas sold, that had more than doubled its June performance with a 112% MoM increase in sales and has gone past Hero Electric (778 units in July 2023) for the first time.
Electric Three-Wheelers Segment Sales – June 2023
Talking about the commercial units of the electric vehicle segment, three-wheeler EVs have recorded consistent growth in India's EV Sales in July 2023 and cumulative January-June sales indicate strong YoY increases.
Last month, the segment witnessed retail growth of 53,736 units, which is up to 12% MoM growth with a 79% YoY growth as compared to July 2022's 30,495 units.
Sales of registered passenger electric three-wheelers in July 2023 stood at 43,491 units with a YoY increase of 76% in passenger E3W and a 100% increase in E3W cargo.
In total, E3Ws sales witnessed a MoM rise of around 12% over the last month.
India has seen tremendous growth in sales of electric three-wheelers largely due to sustained demand for passenger transportation and the expansion of last-mile operator services catering to e-commerce applications, food deliveries and others.
Among the 450 players in the market, Top 40 OEMs in terms of sales have Mahindra Last Mile Mobility (MLMM) as the market leader in FY2023 with over 35,000 units and a 9% share, with 28,443 units in January-July.
YC Electric Vehicles is ranked second with 21,188 units and 7% market share. A laudable performance from the company with five products – the Yatri Super, Yatri Deluxe and Yatri for passenger duties and the E-Loader and Yatri Cart for cargo operations. Low initial cost, from Rs 125,000 to 170,000 for passenger EVs, and Rs 130,000 to Rs 165,000, is what is driving demand for YC Electric.
In third place is Saera Electric Auto with 14,947 units and a 5% share, followed by Dilli Electric with 13,654 units (4.5% share) and Piaggio Vehicles with 10,461 units (3.5% share).
Following the trend, sales showed Dilli Electric at 2,471, Piaggio at 1,976, Mini Metro at 1,568, Hotage Corporation at 1,245 and Champion Poly Plast at 1,421 units.
Electric Passenger Vehicles Sales — June 2023
Witnessing new sales growth in an electric car and SUV sub-segment for India's EV Sales in July 2023, the Electric Passenger Vehicles sales were recorded at 7,475 units, witnessing a MoM rise of around 5.6%.
Accounting for sales records on a YoY basis, Electric Car sales in July 2023 have surged by more than around 153% from that of electric car sales in July 2022.
Crowned at the top, Tata Motors has been driving electric car sales with a record of 5,326 units at 71.3% of the market share on YoY basis; however, it has witnessed a decrease in monthly sales, while MG Motor has seen a fresh increase in sales this month with 1,189 units sold.
Following Tata's car sales record, a new surge of EV registrations of MG Motor was seen in July 2023 at 1,189 units, with a 15.9% market share.
Giving new competition with the launch of Mahindra XUV400, Tata's first real rival to the Tata Nexon EV, Mahindra & Mahindra (M&M) has been placed at third position with recorded 362 units and a market share of 4.8%.
BYD India has clocked sales of 111 units and a market share of 1.5%.
PCA India, which retails the Citroen eC3, the electric version of the C3 hatchback, moves to fourth place with 215 units, ahead of Hyundai Motor India (111 units) and BMW India (92 units).
Electric Bus Sales — June 2023
Electric buses have shown tremendous potential during this year's sales as the figures reach three figures in the last two months. Talking about the India's EV Sales in July 2023 based on electric commercial vehicles like e-buses, the figures show a decline in sales to that of previous month.
According to the recent data, cumulative sales of electric buses in July 2023 accounted for 133 units, witnessing a huge decrease in MoM sales by ~33%.
Leading the helm with 47% market share, Tata Motors sold 64 units in July 2023, Olectra Greentech at 19%, followed by PMI Electro Mobility with 20 units at 15% market share, Mytrah Mobility at 8%, and Switch Mobility at 7% market share.