Hitachi Industrial Products will be releasing a large-capacity multi-port EV charger that enables fast charging of electric vehicles (EVs) from October 2023.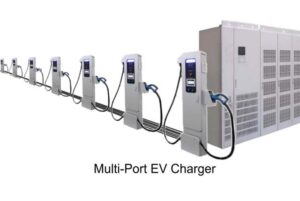 The large capacity multi-port EV charger developed by Hitachi Industrial Products enables to shorten the charging time and eliminate the charging congestion by increasing the number of vehicles to be charged simultaneously.
Bidirectional charge/discharge control technology enables to eliminate grid congestion without the need for grid reinforcement, and to stabilize voltage control required due to large introduction of renewable energy.
In addition, high-efficiency power conversion technology maximizes the value of EVs' potentiality as distributed energy resources.
Hitachi Industrial Products is participating in the demonstration project initiated by CHAdeMO Association to verify the Japan-China next generation charging standard CHAdeMO 3.0 (ChaoJi2) and to promote the standard globally.
This first demonstration site in Japan for the verification of next-generation EV charging standard is established at Omika Works, and will be opened to domestic and overseas EV OEMs, from October 2023 for two years.