Greaves Retail has unveiled its complete range of e-rickshaw batteries under the brand 'Power Raja by Greaves'.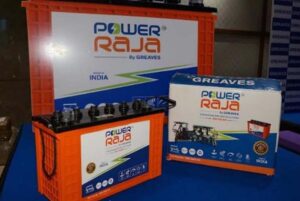 The company says with a focus on the burgeoning e-rickshaw industry, Power Raja batteries will reshape the landscape of small-scale last-mile transportation.
The lead-acid batteries have been designed to address the specific needs of the e-rickshaw segment and come with various warranty offers, different capacities of batteries (120 AH / 130 AH / 140AH / 150AH) and are priced competitively, offering value for money to the vehicle owner.
Narasimha Jayakumar, CEO, Greaves Retail said, "According to statistics from Vahan Dashboard, the three-wheeler category, one of the country's early adopters of EVs, recorded an EV penetration of 53% in FY2023. Power Raja by Greaves will play a pivotal role in the booming e-rickshaw industry."
At present, Greaves Spares has a network comprising over 180 distributors, 8,000 dealers, and 20,000 mechanics.
The company says its multi-brand vehicle spares, encompassing three-wheeler, electric three-wheeler and SCV products serves directly to end-customers.
It also offers diagnostic tools, service equipment, and various business engagement prospects to support maintenance and timely deliveries.