Gurugram-based electric vehicle start-up, Evolet India has launched its first EV showroom in Indore, expanding its footprint to the largest city of Madhya Pradesh.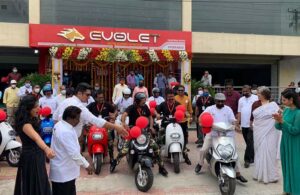 The company believes it will give Indore residents a world-class EV experience and contribute to making the city pollution-free as E-bikes promote a clean environment besides people will save on cost with the convenience of commuting, owing to the rise in personal mobility.
The new EV showroom has been opened under the name M/s Honour Electric Vehicle Pvt Ltd and is situated at G1, TBC Tower, Geeta Bhavan, South Tukoganj, Indore, Madhya Pradesh – 452001.
The event was graced by the presence of Vindu Dara Singh, a Renowned Bollywood Film Actor, who also inaugurated the Evolet flagship EV showroom.
Several eminent personalities of the city along with Evolet India–Co-Founder & Director, Chanderkant; Honour Electric Vehicle Pvt Ltd – Aashray Talwar, Harshit Dammani & Ram Dwarkani- renowned entrepreneurs and well-known business family who have established many businesses like International Car Rental, Restaurants & Clubs, Automobile Sector, Petrol pumps & Jewellery from decades across the country besides others were present during the inaugural ceremony.