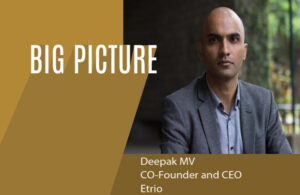 Etrio, Hyderabad based EV Startup Company offers the widest range of products and an EV for every segment of the society – from managing intra-city logistics through retrofitting Tata Ace (eLCV) and electric three-wheeler to easing lives of delivery executives through electric bicycles through Ashva and also for personal use with i-Switch electric bicycles. During an interaction with Nitisha from BISinfotech, Deepak MV, CO-Founder and CEO, Etrio emphasized the value of electric vehicle market in India and his upcoming strategies.
Please explain Etrio and its speciality. How does it define differently from other companies?
Founded in 2017 by Sathya Yalamanchili and Deepak MV, Etrio has a vision to provide 'EV for all'. We have reimagined EV adoption with a unique two-pronged approach of building new products and converting ICE (Diesel/ Petrol) vehicles. The company is slowly transforming lives by giving unmatched warranty, reducing the running cost by an extra Rs. 4 for every km and decarbonising the environment by retrofitting existing diesel vehicles and building new vehicles. Etrio is the 3rd company after TATA and Mahindra to be ARAI certified in four wheeler passenger vehicles and the 1st to have ICAT certified electric light commercial vehicles plying on roads. The company recently received a shoutout from Shark Tank's most beloved shark- Kevin O'Leary. Etrio has in a short span of time established credibility and gained trust of leading e-commerce and logistics players including Amazon, Flipkart, Big Basket, Delhivery, LetsTransport, and many others.
Electric vehicles are the future. What makes it different and how do you see the market?
Over the last 4 years, Etrio pioneered the EV conversion space by becoming India's first certified retro fitment company aimed at reducing carbon footprint in the country. Trusted partners to leading e-commerce and logistics players, Etrio offers a wide range of EVs for every segment of the society from managing intra-city logistics through retrofitting Tata Ace (eLCV) and Touro, the new electric three-wheels (both Cargo and Passenger) to easing lives of delivery executives through electric bicycles (Ashva). Bolstering and electrifying intra-city logistics, they have completed 50000+ km for their clients making 10000+ deliveries during this pandemic. Our focus has always been to provide sustainable commute and transporting solutions to the customers at a reasonable price and we have successfully been able to do so.
Kindly highlight any unique project you are working on and also launch in the loop of coming time?
We are working on the leasing model for our vehicles which we have launched in the month of December last year. We are looking to refine our leasing offerings so that everyone can afford an EV that too at a very reasonable price without the burden of having to own the asset. We are also working on product updates and new dealership openings.
How was the year 2019-2020 in terms of business? What will be your marketing strategy for the year 2021?
While COVID-19 has brought a lot of uncertainties in 2020, we were still able to have a moderately good year for the business especially registering new demand for EVs amidst the pandemic. Various state governments also stepped in to provide the much-needed support and incentives which helped the end consumers to replace their old fossil fuel vehicles with EVs. Our marketing strategy for 2021 would be fairly simple. We have started planning to expand our distribution and dealership network and in turn, spending our marketing budget into incentivising them to attract sales. We will also be going to start social media promotions to attract the young audience for our new products such as e-bicycles etc
As the Indian government has extensive plans for EV, what are your expectations? Please explain.
The key expectations from Budget 2021 are as follows:
Enablement of charging infrastructure in the country at a faster rate

Details of PLI scheme to support for localization of EV supply chain in the country and enable innovation

Support for attractive financing option for electric vehicles

Inclusion of retro fitment incentives in FAME II policy

The faster roll-out of tax refunds and incentives

Smoother regulatory approvals
Apart from the Indian market, are you planning to promote your product overseas also? If yes, please elaborate.
We are very much focusing on the Indian market right now because we believe that India itself has the potential to generate much more EV sales as compared to the rest of the SAARC countries and South-Asian markets.
During Covid-19 there was a huge loss in industry, how did Etrio have handled the situation?
COVID-19 did play a dampening role in the EV growth story for India with disruptions in Supply-chain and product delivery delays. However, the rise in e-commerce drove the growth of the logistics sector which drove higher demand for vehicles and EVs as a consequence. Etrio also played a crucial role with its partners in aiding the logistics sector. While the demand for Etrio E-LCVs soared during the period, Etrio launched a range of brand new electric three wheelers under the brand name of Touro to cater particularly to intra-city logistics. These enabled us to keep continuing to generate demand.
(Source-www.bisinfotech.com/)