Keen on expanding its operations in the manufacture of battery components, Epsilon Advanced Materials has been planning to raise about Rs 1,200 crore from investors to fund its operations to manufacture components for lithium-ion cells used in EVs.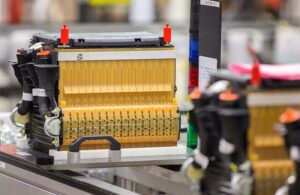 A subsidiary of Epsilon Carbon, Epsilon makes graphite anodes or negative terminals of lithium-ion cells.
It has invested about Rs 300 crore in this business so far and is now looking for external investment, according to Vikram Handa, managing director of Epsilon Carbon.
The company is expecting to close this fundraising by the next financial year. In all, it is looking to invest Rs 9000 crore over the coming eight years, Handa said.
"Battery is a high capex business with long capex cycles, so we'll go for external funding too," he answered. The company is looking primarily for strategic investors, to begin with, he said.
This comes at a time when the government is promoting the manufacturing of advanced chemistry cells like lithium-ion in India through an Rs 18,100-crore production-linked incentives (PLI) scheme. Presently, all the cells used in EVs are imported into India, primarily from China.
Companies like Ola Electric and Reliance New Energy Solar have qualified for the PLI scheme, while others like Lucas TVS, Exide and a consortium of Toshiba, Denso and Suzuki Motor are also setting up plants in India to make cells for EVs.
Epsilon is looking to make the raw materials that go into these cells.
"We're looking at the cell material space; we're not going to make the cells," Handa said.
The company is exploring other materials as well besides anodes, he said, including cathode or the positive terminal. "We are also looking at cathode very seriously and we're close to making some decision on that. But right now, we want to focus on the anode and get that right."
Unlike anodes, which are generally made of carbon, a core competence of Epsilon, cathodes can be made from different materials based on cell chemistry.
The company had earlier this year tied up with US-based The Metals Company to study the feasibility of extracting rare metals through deep-sea mining to manufacture the cathode for Lithium-Nickel-Manganese-Cobalt-Oxide (NMC) cells.
NMC is one of the most popular cell chemistries in the EV industry.