Elektrobit has introduced Theming Engine, featuring innovative, new, software capable of fully customizing a vehicle's user interface at any point during the life of the vehicle—without the need for a software engineer.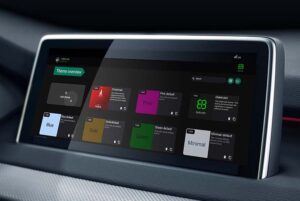 Elektrobit's Theming Engine allows automotive OEMs, fleet managers, rental car operators and shared mobility service providers to personalize the look and feel of a vehicle "on the fly", providing opportunities for revenue generation, improved customer satisfaction and enhanced brand loyalty beyond a vehicle—or fleet's—point of purchase.
Customization and branding have never been more important to the auto industry. According to McKinsey, companies that excel in such features typically generate 40% more revenue — and, across industries, those that achieve top-quartile performance in customization can generate more than $1 trillion in new value.
The Elektrobit Theming Engine provides easy-to-use design templates and configurations, based on the Android platform, that enable cockpit design teams to produce and apply bespoke interfaces rapidly.
The Theming Engine decouples UI design from software development so creative designers can modify the look and feel of an interface at any point within the life of a vehicle.
This makes it easy for them to create and deploy a variety of themes including brand- or model-specific imagery, text types and color schemes; updates for seasons, holidays, time of day and anniversaries, geographic positioning such as current location or destination location; and much more.
"Once upon a time, aftermarket customization meant shiny wheels, loud decals, and in-vehicle accessories like gearshift sleeves. The digitally-aware consumer wants a car that meets their ever-changing needs, including advanced interior features such as curved glass displays, voice controls and user-specific interfaces with distinct theming," according to Siegfried Dirr, VP Engineering Services and Technologies, Elektrobit. "Our Theming Engine offers a glimpse at the future of customization, addressing the demands of digitally-focused customers for more bespoke features, adding branding and new revenue opportunities for OEMs beyond a vehicle's point of purchase."