Accommodating a massive population of around 1.37 billion, India holds one of the world's biggest markets of automotive having a staggering number of two, three as well as four-wheeler drivers out of which only one percent own electric vehicles.
And the pure reason for this astonishing difference is Expensiveness of Electric Mobility in the Indian Market.
Living among the price-conscious mentality of Indian consumers, affordability and ease of availability of vehicle parts play one of the biggest factors while purchasing a new vehicle.
On average, an EV in India is 50 percent more expensive than its Internal Combustion Engine (ICE) or its petrol and diesel-run siblings.
Under the joint efforts of both central as well as state governments, many subsidies and incentives have been issued for supporting the mass adoption of EVs. These subsidies do bring the cost down a little but are still not enough to make them as affordable as the ICE vehicles.
This is where Electric Vehicle Financing in India comes into the picture.
Setting their sights on the booming market of Electric vehicles, many financial institutions like banks and non-banking financing companies (NBFCs) have started drafting several strategies for Electric Vehicle Financing in India.
EV Financiers- Who are They?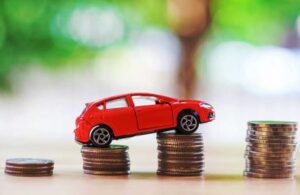 Sensing the shift in mobility status of the country, Electric Vehicle Financing in India made a new turn with financial institutions making their entry into the EV segment with new offerings. The list of players mentioned is ever-increasing and the type of institutions includes,
Banks
One of the first primary banking bodies to make its move, the State Bank of India (SBI) has come forward as one of the primary players in this space through its 'Green Car Loan'.
Other banks like HDFC have also announced plans to soon enter Electric Vehicle Financing in India, while other mainstream names like Yes Bank, Union Bank of India and Axis Bank, have teamed up with electric vehicle manufacturers to provide affordable EMIs for EVs.
NBFCs
Keeping up in the race to offer financial support to the budding drivers of EVs, many NBFCs in the financing space operate under either a captive or non-captive model.
Naming some of the captive NBFCs includes, Manappuram, Vedika Credit Capital, Cholamandalam, and Greaves Finance which have collaborated with automotive manufacturers to provide their consumers with affordable Electric Vehicle Financing in India.
Apart from these, non-captive NBFCs like Three Wheels United, Revfin, and Autovert are also working their way toward financing particular vehicle segments.
Others
Setting aside the NBFCs and banks coming forward in Electric Vehicle Financing in India, certain operators are also working as guarantors in both private and institutional spaces.
The perfect example of this case is Eqaro Guarantees, a private company that is currently partnering with Prest Loans and Terra Motors to facilitate the Electric Vehicle Financing in India, thus bridging the gap between financiers and end-consumers.
Other institutional bodies like World Bank and NITI Aayog have joined hands with SBI to set up a 'first-loss-sharing instrument' that will help in reducing the cost of EV financing by providing credit guarantees to financial institutions.
In another take, the Delhi Financing Corporation is offering interest subventions of up to 5 percent for all Electric 3Ws, while the Kerala Financing Corporation has brought down interest rates on EV loans across categories to 7 percent through a subvention of 3 percent.
Challenges Laid Out for Electric Vehicle Financing in India
Being the first movers in Electric Vehicle Financing in India, several financial institutions like banks have made efforts in launching special loan offerings with special interest rates.
The high-interest rate was previously a major roadblock in Electric Vehicle Financing in India but has come down under the government's support for mass adoption in the segment.
With banks offering loans for EVs with only partial financing and a low loan-to-value (LTV) ratio to mitigate the risk, many Indian consumers were hesitant to switch to electric mobility.
With a low LTV ratio, a financier can easily recover substantial costs in case of borrower default despite a potentially low resale value.
The key issue arises due to the limited availability of good EV original equipment manufacturers (OEMs).
Another key concern that plagued Electric Vehicle Financing in India is that OEMs may be selling EVs at low or negative margins due to the high capital cost, therefore creating a risk associated with their balance sheets. Lending to OEMs before was a very risky proposition for banks.
However, witnessing the government's clear stance on promoting the EV segment by issuing new tenders for establishing charging stations and offering special incentives under FAME schemes for the long term, has cleared some of the concerning doubts of these financial institutions in entering the EV space with peace of mind.