Austrian battery manufacturer e.battery systems and India's Amara Raja Batteries have collaborated to jointly develop a liquid-cooled battery for two- and three-wheeled electric vehicles in India.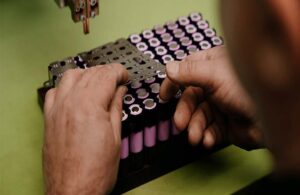 Production is scheduled to start in a year.
The battery, which features immersion cooling and rapid charging, will be designed specifically for the fast-growing Indian market for electric scooters and electric rickshaws, according to the Vorarlberg-based company.
"It can get very hot in India. That's where safety and precise temperature control are paramount," says Christopher Schöpf, Founder and CEO of e.battery systems. "An immersion liquid cools more efficiently as well as more effective than conventional methods, extending the battery's life by up to 30 per cent."
Tests are scheduled to start as early as the beginning of 2023, followed by certification.
From autumn 2023, production of several 10,000 units per year is planned in a specially built semi-automated production line in India.
Last July,  e.battery systems received a major order from the Swedish manufacturer RGNT.
e.battery systems will produce at least 10,000 batteries for RGNT's electric motorbikes in the coming years.
An office was also opened in the USA, actively putting the company on three continents once production launches.